Learn more about our school tours, educator trainings, student days, resources, and more.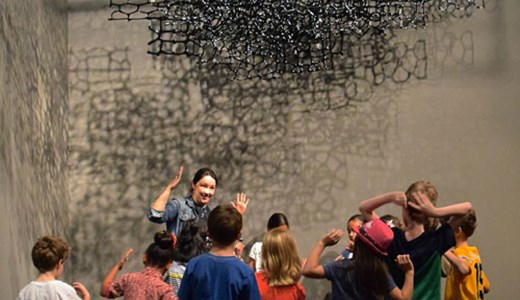 School Tours
Bellevue Arts Museum has great opportunities for educators and school groups of all ages. BAM offers school tours specifically shaped to your students' grade level and interests. We invite you and your class to pay us a visit. A tour of Bellevue Arts Museum's galleries serves as a great extension of your classroom work and provides wonderful opportunities to develop projects and assignments that relate to the works on display to your curriculum.
Our exhibitions change often and explore the world of art, craft, and design through major media such as fiber, clay, wood, glass, and metal. From objects made for everyday use to cutting-edge sculpture, furniture, and jewelry, BAM celebrates the creative process, skill, and vision of today's most talented makers. International exhibitions are placed side-by-side some of the region's most promising artists, fostering global exchange and providing a platform for thought-provoking ideas.
Due to COVID-19 restrictions, our school tours program is temporarily on pause. If you have questions or would like to inquire about scheduling a school tour in the future, contact Erin Cotton, Education Manager at erinc@bellevuearts.org.