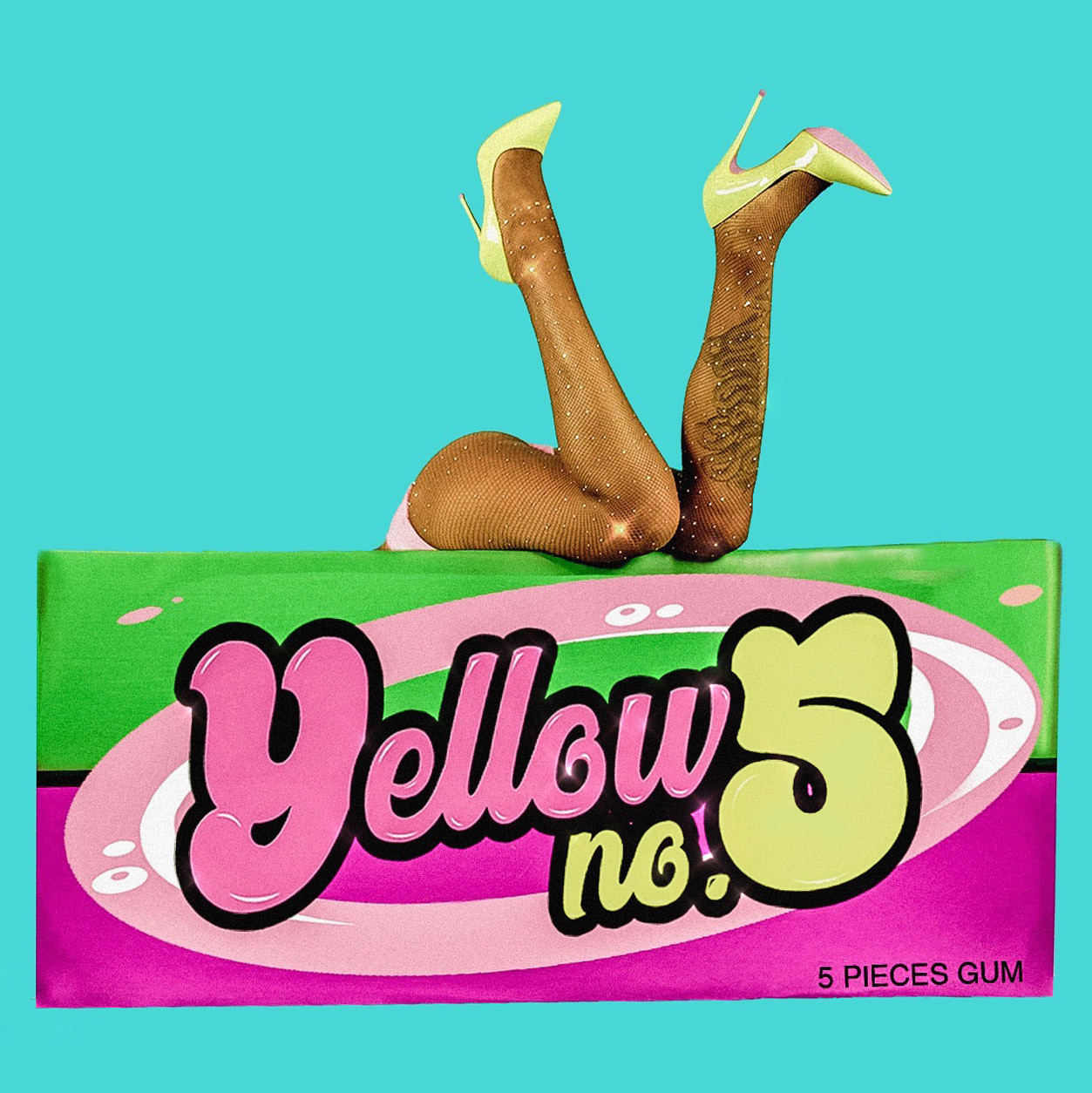 November 06, 2020 - April 18, 2021
Yellow No. 5
Natural Flavor. Artificial Color.
Yellow No. 5 examines the transactional relationship between culture and consumerism and how they often work in tandem to conceal their connection. Tariqa Waters' project-based, multi-disciplinary exhibition sees her collaborate with regional artists to explore the grab-and-go nature of material goods and how these products serve as armor to shield us from our intrinsically codependent relationship with consumerism—using artificial additives.
Artist/curator, Tariqa Waters' whimsical, larger-than-life, pop-inspired work was first shown at BAM in the Bellwether 2018 exhibition. Her eight-foot-tall replica of a pink roll of Quilted Northern toilet paper featuring a self-portrait of an exhausted mother in hair rollers and a rain bonnet references a conglomerate of early childhood memories where urgency and vanity work in tandem to mask generational pain: the pink elephant in the room to match the towels.
For Yellow No. 5, Bellevue Arts Museum has commissioned new work from Waters and 10 additional artists. Each will come together with their own specific practices threading a common narrative about contemporary American culture through humor and caustic social commentary.
In describing her vision for the exhibition, Waters says, "How we reconcile our personal choices with our outside view of the world is worth exploring. America's greatest privilege is the opportunity that we have to access one another's cultures in appreciation rather than appropriation. As a result, we unknowingly blend experiences that shape the core of who we are with objects and spaces constructed without us in mind. Have we supported and represented one another merely through co-existing? How can we best lampoon cultural codependency while maintaining the ability to laugh at ourselves?"
About the curator & artist Tariqa Waters
Born in Virginia, Waters developed an early interest in oil painting. Self-taught, she started working as a muralist while in Sicily where she lived from 2003–2007. Returning to the States, she began exhibiting work in Washington DC and Atlanta. Tariqa relocated to Seattle in 2012 where she opened a gallery in the historic arts district of Pioneer Square showcasing underrepresented artists called, Martyr Sauce. In 2015 Waters founded the Re:Definitiongallery at the Paramount Theatre in 2015, a partnership with Seattle Theatre Group (STG) to redefine historic cultural space.
Waters' own artwork has been garnering support and critical acclaim in the region and abroad. In 2016, her popular solo exhibition, 100% Kanekalon: The Untold Story of the Marginalized Matriarch, exhibited at the Northwest African American Museum.
In spring 2017 she was featured in issues of Rolling Stone France and Madame Figaro magazines, while that summer Martyr Sauce became a Cultural Partner to the Seattle Art Fair where Waters was a featured speaker. That same year Waters was nominated for the James W. Ray Distinguished Artist Award and she was awarded the Conductive Garboil Grant. In 2018, she received the Artist Trust Fellowship Award. In 2020 Waters was a finalist for The Seattle Art Museum's Betty Bowen award and recipient of the prestigious Kayla Skinner Special Recognition Award. Learn more at martyrsauce.com
Exhibition Credit
Yellow No. 5 is guest curated by Tariqa Waters and organized by Bellevue Arts Museum. Presented by Microsoft. Sponsored in part by Tory Burch. Media Sponsors: KCTS 9, The Seattle Times, and Xfinity. In-kind support from Seattle SignShop.