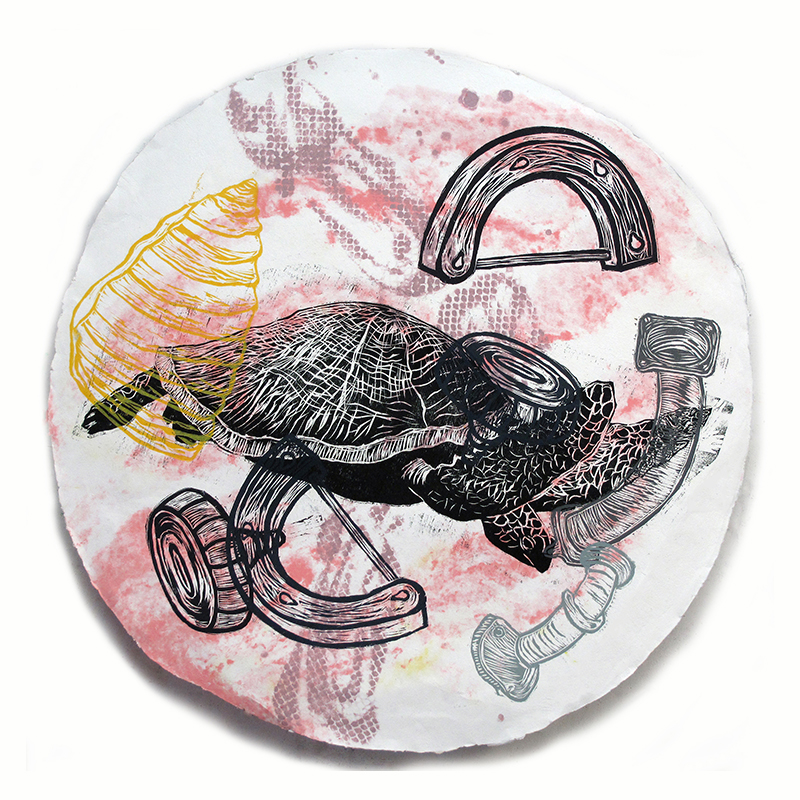 January 29, 2021 - July 04, 2021
Pulped Under Pressure
The Art of Handmade Paper
The Art of Handmade Paper
With traditional hand papermaking at its core, Pulped Under Pressure: The Art of Handmade Paper brings together a group of seven artists whose paper-based artwork underscores contemporary issues while remaining steeped in craft history. These texturally enticing works encourage a contemplative slowing down, even as they urge acknowledgement of some of the most pressing concerns, from environmental crisis to global marginalization, facing civilization today. Each artist starts simply, with a foundation of pulp made from natural fibers. Their multifaceted results incorporate a rich range of printmaking, letterpress, papercutting, and installation with a diversity of recycled disposable materials including junk mail, egg cartons, old cotton t-shirts, ripped denim jeans, old bedsheets, beetroot, heirloom plants, and illuminated electroluminescent wires. The artists consider paper beyond its most common function as a passive surface of record or craft. In their hands, the material is transformed and embedded with content that turns communication into a public practice. By challenging assumptions, the artists of Pulped Under Pressure create artworks that are at once beautiful and brave.
California native Jillian Bruschera is an interdisciplinary artist who recycles discarded materials. By combining bits of broken technology (TV remotes, cassette tape, and CDs) with wastepaper and trash cardboard, the artist questions built-in obsolescence, over-consumption, and identity. As founder and proprietor of The Mobile Mill, Bruschera travels teaching the art of hand papermaking. She holds BAs in studio art and visual communications from Loyola University Chicago, and an MFA in interdisciplinary arts from Columbia College Chicago, where she also served as adjunct faculty in the Center for Book and Paper Arts. helenhiebertstudio.com
Based in Oakland, CA, independent artist Julia Goodman makes cast paper works from discarded bedsheets and with papyrus pulped from beets. Loosely based on the history of rag paper, her biographical and biological approach negotiates the boundaries between fragility and strength. Goodman has exhibited at The Poetry Foundation, Salina Art Center, DePaul Art Museum, Columbia College Chicago, and San Jose Museum of Art. Her residencies include JB Blunk Residency, Recology SF (The Dump), Angelic Organics, and Salina Art Center. She holds a BA from Tufts University and an MFA from California College of the Arts. jagoodman.com
Inspired by her heritage, Chicago artist Trisha Oralie Martin includes native Filipino tattoo designs and textile motifs in her highly patterned works. By archiving a practice that reflects a native people's symbiotic relationship to the environment, the artist invites her audience to look, learn, and communicate despite differences. Previously, she collaborated with nine Filipino artists on a John D. and Catherine T. MacArthur Foundation-funded project through the Field Museum in Chicago. Her work has been published in Hand Papermaking, shown nationally and internationally, and presented at the Alliance of Artists Communities conference. She holds a BA from San Diego State University and an MFA from Columbia College Chicago. trishaibarra.weebly.com
Influenced by crafters, feminists, and Quaker activists, Columbia College Chicago Associate Professor Melissa Potter considers the radical history of women through traditional handicrafts, gender rituals, and untold personal histories. She is the recipient of three Fulbright Fellowships to Serbia, Bosnia, and Hercegovina, with residencies through ArtsLink and the Trust for Mutual Understanding. Her work has been shown internationally and her essays have been published in BOMB, Art Papers, and Flash Art. Her curatorial project Social Paper examined hand papermaking as socially engaged art. She holds a BFA from Virginia Commonwealth University and an MFA from Rutgers University. melpotter.com
Wisconsin artist Marilyn Propp examines the coexistence and clash between the industrial and natural worlds. By combining luminous color with the materiality of handmade paper and graphic images, the artist entangles marine life with industrial debris in provocative reflections on destruction. Propp is the co-founder of the Center for Collaborative Research, which takes Press on Wheels into communities for print and papermaking. She is the recipient of numerous grants from the Illinois Arts Council and Adolph and Esther Gottlieb Foundation. She holds a BA from the University of Pennsylvania and an MA from the University of Missouri-Kansas City. proppjonesstudio.com  
Learn about Marilyn's artistic process                     
Chicago interdisciplinary artist Maggie Puckett uses the seductive tactility of handmade paper in concert with rich organic color to foretell the dire effects of climate change. By working collaboratively, her work triggers environmental awareness that imbues socially engaged local actions with the power to impact the global. Her work is represented by Brooklyn Artist Alliance and has been shown at EXPO Chicago, the Museum of Contemporary Art Chicago, and Johnson Museum of Art. Her work is included in collections at Dartmouth College, Occidental College, Smith College Museum of Art, and UC Santa Barbara. She holds a BS from New York University and MFA from Columbia College Chicago. maggiepuckett.com
Curator & artist:
Reni Gower's work incorporates sacred geometry in her spray pulped paintings and papercuts to reveal universal cross-cultural connections. In 2014, Gower received the College Art Association's Distinguished Teacher of Art Award, followed in 2017 by the SECAC's Award for Outstanding Artistic Achievement. Her artwork is held in many prestigious collections and has been exhibited at international and national venues for over 40 years. In addition to her painting practice, she curates award-winning traveling exhibitions. In December 2018, after 37 years of teaching, she retired from Virginia Commonwealth University and is currently Professor Emerita. She holds a BS with honors from the University of Wisconsin-Madison, an MFA from Syracuse University, and MA from University of Minnesota-Duluth. renigower.com
Exhibition Credits
Pulped Under Pressure is organized by Virginia Commonwealth University and co-curated by Reni Gower and Melissa Potter. The local presentation is curated by Benedict Heywood and Lane Eagles. Media Sponsor: KCTS 9. In-kind support from Seattle SignShop.