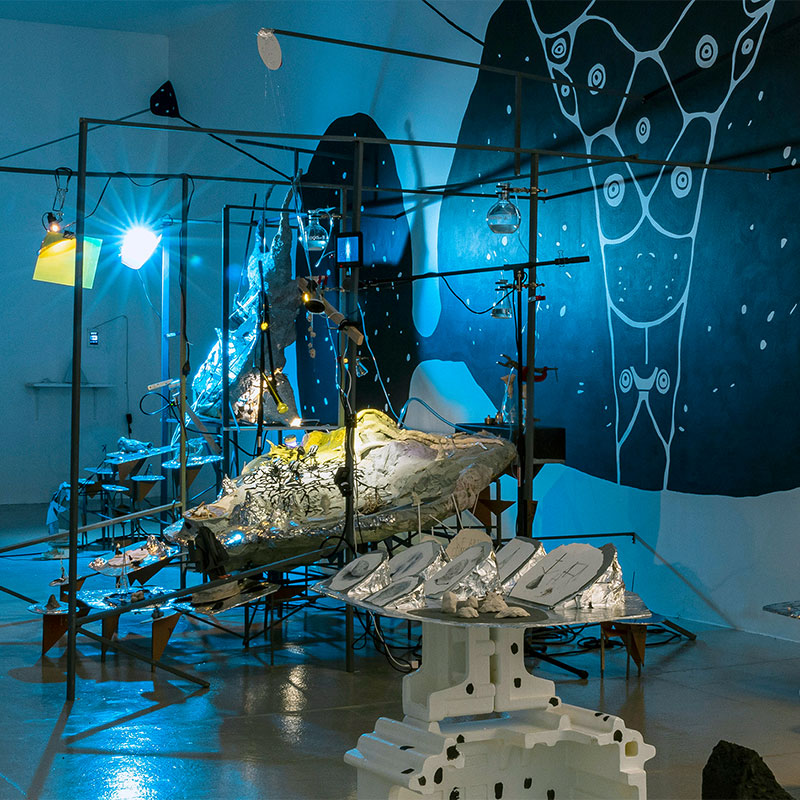 May 20, 2022 - January 08, 2023
Patte Loper
Laboratory for Other Worlds
Tools for understanding new ways of being
Laboratory for Other Worlds is a multimedia landscape that uses animation, sound, and everyday objects to create a hand-woven, immersive environment. It explores the role of human and nonhuman connection in a time of ecological crisis through a technological and material imaginary. Viewers are invited to push past the limits of their imaginations and experience the installation as a set of tools or devices for understanding new ways of being that expand out of the human realm into a shared experience with the wider world.
Loper's practice began exclusively with conceptually based figurative painting and the work morphed over time into an experimental practice that utilizes painting, drawing, video, installation, and performance. Deeply rooted in painting's discourse, her current practice uses painterly logic to create three dimensional structures that evoke landscape and still life and link early and midcentury formalism, architectural theory, and utopian idealism.
Did you know? 
Artist Patte Loper created a syllabus to help community members learn more about the concepts in her exhibition and explore the environmental humanities. 
Patte Loper is a transdisciplinary artist and activist who experiments with sculpture and video to explore a range of subject matter including feminist utopianism, new materialism, and the ecological imaginary. She currently lives and works in New York City and Boston where she is on the faculty of the School of the Museum of Fine Arts at Tufts University. She spent her formative years as a young artist in Seattle and considers the Pacific Northwest her artistic home. She has shown her work in numerous exhibitions nationally and internationally, including the Mattress Factory, Children's Museum of Manhattan, Tacoma Art Museum, and Suyama Space.