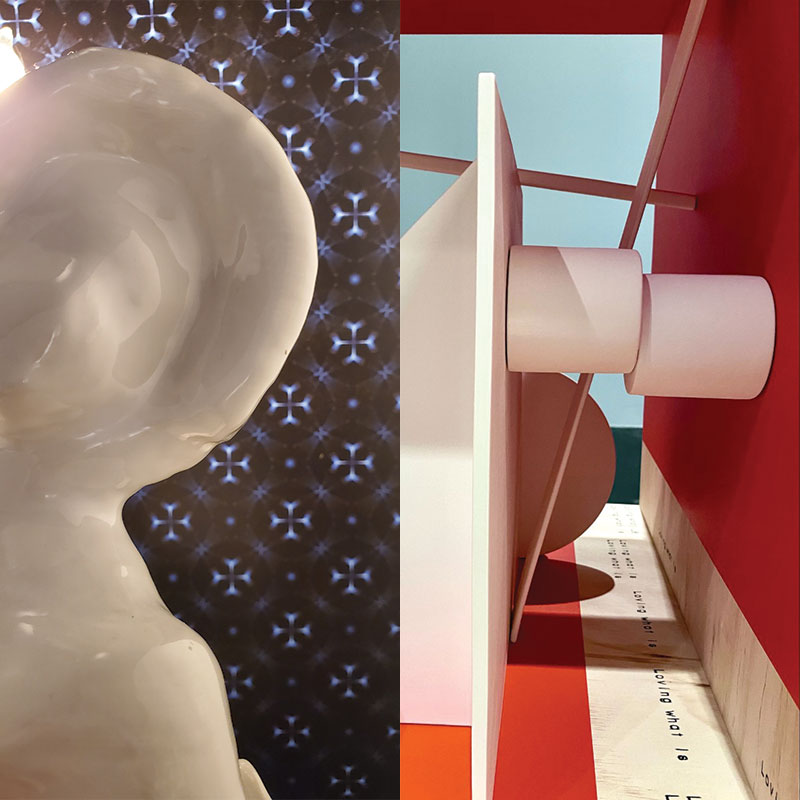 January 21, 2022 - May 29, 2022
Object Permanence
Timea Tihanyi & Sylwia Tur
Connecting science and art
Object Permanence is a space for dialogue and collaboration between two artists, a convergence and divergence of personal histories, artistic imaginations, and creative methodologies. Timea Tihanyi and Sylwia Tur are two Seattle-based ceramic artists whose background is deeply rooted in science: cognitive science and linguistics, respectively. Each artist also experienced uprooting from her native country as an adult—Tihanyi from Hungary and Tur from Poland. Together their work strives to establish connections between scientific and artistic practices.
Centered in the gallery is a large, sprawling architectural structure composed of open crates, which frames the artists' dialogue and houses their individually created content: porcelain sculptures, audio, and video artworks. The boxes obstruct and hold space. Individually, the crates are vignettes, windows, and zoom calls appearing in isolation, but in the holistic context become a tableau or snapshot. As a unit, they resemble shipping crates, apartment blocks, theater stages, magician's boxes, time capsules, linguistic systems, and compartments of memory.
The sculptures within the crates are signifiers, carrying memories of places, people, interactions, and events, not unlike the few precious belongings an immigrant may carry when moving to another country. These objects, recontextualized in a new place, remind one of who they are and help to build a new life. Similarly, putting down roots in a new place is intertwined with these objects: acquiring them, using them, mending them, storing them, as well as harnessing them to form new memories, language skills, and connections.
Timea Tihanyi is a teaching professor in the interdisciplinary visual art program at the University of Washington and the founder/director of Slip Rabbit, a technoceramics studio in Seattle. Sylwia Tur is a linguist working on language processing for AI at Appen. Object Permanence is their first artistic collaboration.