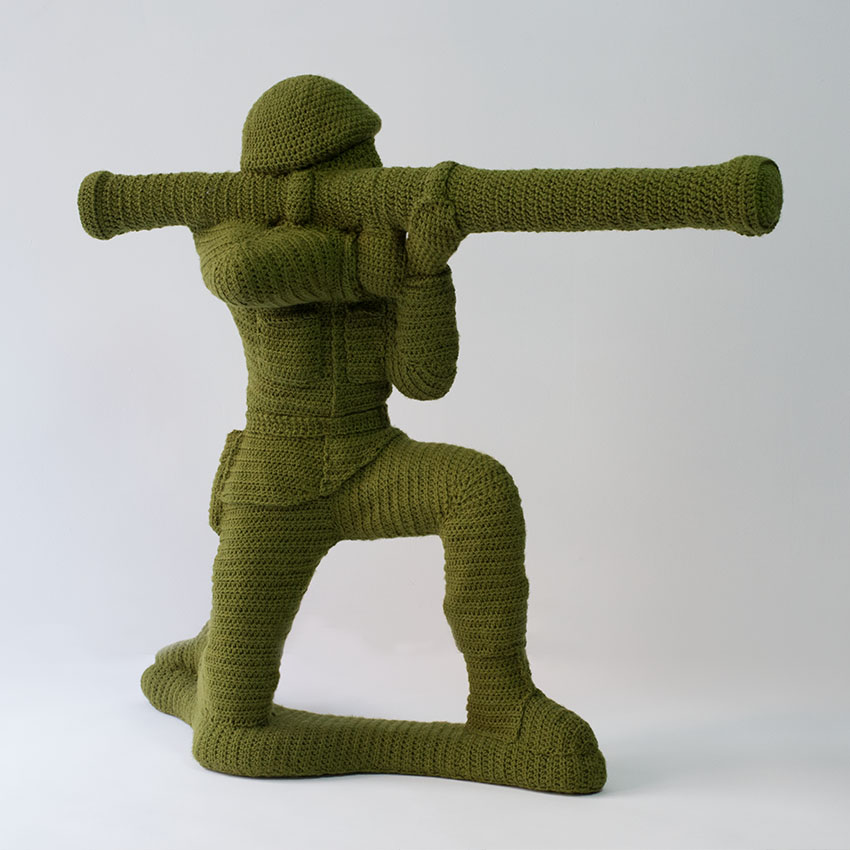 June 19, 2015 - October 18, 2015
Nathan Vincent
Let's Play War!
Let's Play War! is Nathan Vincent's first solo museum exhibition.
The New York-based artist, whose work was featured in BAM's 2011 group show The Mysterious Content of Softness, continues to explore the power of fiber to challenge ideas about the codes of conduct still at work within the American domestic landscape. Taking inspiration from the packs of cheap, plastic army men Vincent played with as a child, the artist asked what it would look like if the toys of our youth were to grow up with us. Vincent alters the scale and material presence of these ubiquitous toys by creating half life-size figures and knitting and crocheting yarn 'skins' to dress two battling armies.
Vincent's use of the soft fiber medium in contrast with these conventionally masculine objects shifts and disrupts assumptions about gender roles. Viewers are encouraged to consider how these roles are reinforced and defined by the objects and activities they were introduced to as children. On another level, the enlarged scale of these toys shifts the balance from children being in charge of the battle, to being caught in the midst of battling. Adults have nostalgic feelings replaced with dread as the innocence of play gives way to a foreshadowing of loss. Vincent's installation simultaneously speaks to the militarization of our cultural landscape and the pervasiveness of violence, which has swept the country and shaken public opinion.
These once fun figures become sinister as we are forced to rethink how we play war.
Exhibition Credit
Nathan Vincent: Let's Play War! is organized by Bellevue Arts Museum and curated by Stefano Catalani and Kelsey Rudd.