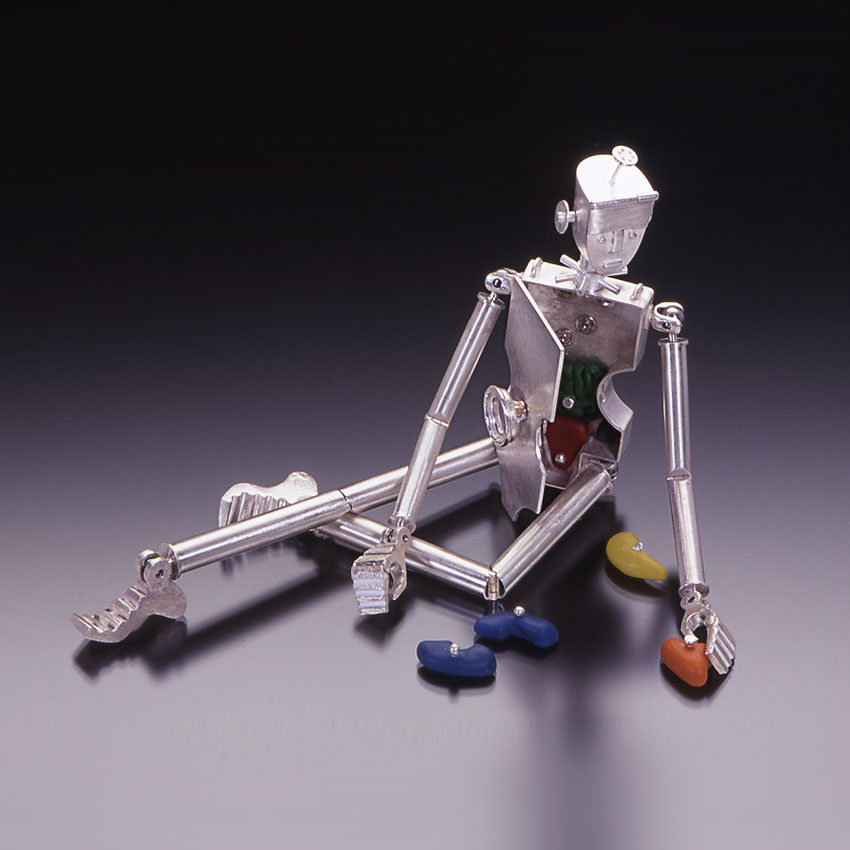 April 17, 2015 - August 16, 2015
Jana Brevick
This Infinity Fits in My Hand
This Infinity Fits in My Hand
"Jana Brevick's imagination contorts the mundane and makes it magnificent." -The Seattle Met
In Jana Brevick's hands, the prosaic household object or tool is transformed into a gem. The resulting work juxtaposes a high level of metal craftsmanship with a droll tongue-in-cheek delivery. With a nod to Man Ray, these wry "chance meetings" are often accompanied by twists on scale and proportion that challenge conventions of wearability.
Brevick is insatiably curious about the world and beyond. Her ongoing research into mathematics and the natural sciences forms the basis for many of her pieces. In her work, an awe for the history of scientific discovery and innovation is offset by her fascination with the beauty of obsolete technologies. Employing a visual language that is simultaneously anachronistic and futuristic, the artist tackles universal themes: from the alchemy of merging creative and scientific processes, to the Romantic journey of the individual into the sublime.
Jana Brevick: This Infinity Fits in My Hand represents the artist's first solo exhibition in a museum. The exhibition presents previous works charting the artist's career alongside new, never-before seen pieces, and demonstrates the artist's versatility and range, from wearable objects and jewelry to sculpture and environmental installation.
Jana Brevick is a Seattle-based metal artist. Her work demonstrates a protracted engagement with materials and a long-term respect and fascination for metals and their attendant properties. A self-titled "experimental interactionist" with a BFA in metals (UW) and a BA in fashion design (WWU), Brevick is sensitive to the potential of the body to serve as a vehicle for communication and tool for engagement in social processes such as conflict, cooperation, and identity formation from human interaction. This approach asserts focus on the concept of an object and the experience of wearing it, rather than subordinating a work to the role of accessory.
A member of Seattle's SOIL Gallery for over ten years, her activities range from exhibiting artist, juror, and curator. Brevick has participated in exhibitions across the United States, United Kingdom and Germany, and has spoken or led workshops at Penland School of Crafts, North Carolina; Artist Trust, Seattle; Massachusetts College of Art and Design (MassArt), Boston; and the University of Wisconsin, Milwaukee. Her jewelry is represented by Facèré Jewelry Art Gallery, Seattle.
Exhibition Credit
Jana Brevick: This Infinity Fits in My Hand is organized by Bellevue Arts Museum and curated by Jennifer-Navva Milliken.