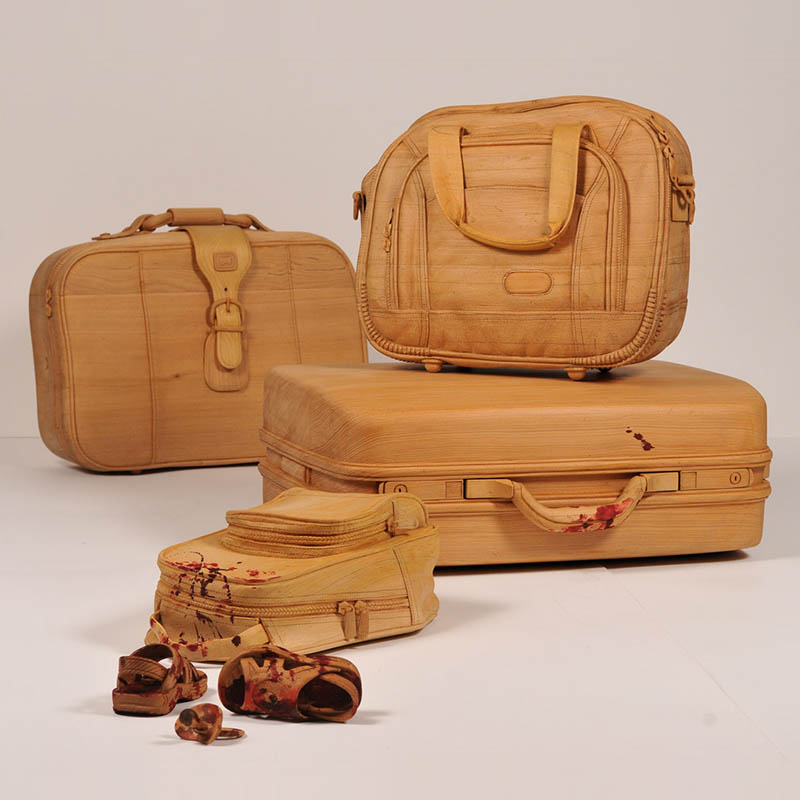 September 22, 2017 - March 25, 2018
Humaira Abid
Searching for Home
"[Humaira Abid] hits a new peak, combining technical prowess with fierce vision to produce charged political drama." ―Michael Upchurch for The Seattle Times
"[...] Searching For Home, in its defiance and compassion, is vital viewing for all of us." ―T.S. Flock for Vanguard Seattle
"Humaira Abid has made it her business to speak for those who are not being heard."  ―Susan Kunimatsu for International Examiner
Searching for Home is the first solo museum exhibition for Seattle-based, Pakistan-born artist Humaira Abid. Abid is well known for her bold, symbolically rich, and meticulously realized wood sculptures and miniature paintings. Her work demonstrates a fearless approach to tackling cultural norms, gender roles, and relationships, often with an ironic edge. Searching for Home premieres never-before seen works by the artist, created following months of research and interviews with refugee women who have been resettled in both the Pacific Northwest and Pakistan from nations including Somalia, Syria, and Afghanistan.
The exhibition constructs a narrative through seven "stations," or installations, that take viewers on a "search for home." For the refugee, the concept of "home" belongs to the past and, hopefully, the future; the present, however, is trapped in limbo, focused on survival. At the center of this discussion is the plight of female refugees and their difficult journeys. These crossings often separate families and create a longing for the comfort of home and security of the domestic domain. For many, the success of the search is dependent on the implements that facilitate survival along the route, and the intermittent signs of hope that light the way forward. This, Abid's most narrative and expansive undertaking to date, involves the intricately detailed yet confrontational imagery that forms the basis of her work.
Seattle-based artist Humaira Abid received her BFA in Sculpture and a double minor in Miniature Painting from National College of Arts, Lahore in 2000. Abid's masterful works have been exhibited in prestigious galleries and museums in Malaysia, India, Pakistan, Mauritius, Nepal, Kenya, Dubai, Bolivia, German, Russia, UK, and the United States. She has been published in books, catalogues, and newspapers internationally and has received many prestigious awards and grants including two from Artist Trust: the Artist Trust Fellowship in 2015 and Artist Trust 's Innovator Award Finalist in 2017. Her work has been reviewed by the Seattle Times, the Stranger, KUOW Public Radio, the Seattle Weekly, and the Huffington Post. She has appeared in the Stranger's Arts & Performances Quarterly magazine, Sculptural Pursuit, American art collector magazine, and in-flight magazine of AIR INDIA. The KCTS9 branch of PBS produced a documentary on Abid's work which was nominated for a NW Emmy Award.
Learn more about Humaira Abid at humaira.com.pk
Exhibition Credit & Sponsors
Humaira Abid: Searching for Home is organized by Bellevue Arts Museum and guest curated by Jennifer-Navva Milliken. Local presentation is made possible in part by 4Culture and Museum Quality Framing. Works in this exhibition were made possible in part by grants to the artist from 4Culture and Artist Trust and with support from Refugee Women's Alliance (ReWA).