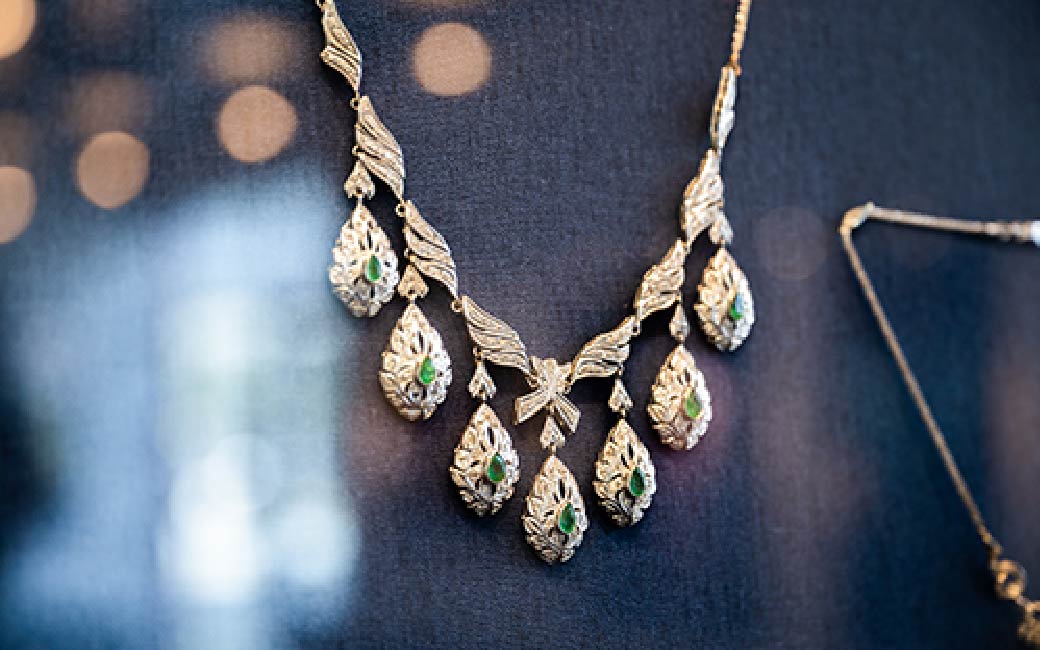 January 01, 2018 - July 02, 2023
Hamed Shirzadian
Persian Jewelry Installation
Persian Jewelry Installation
Twenty-two jewelry modern pieces and eight jewelry-making tools crafted in 18th and early 20th century Persian tradition.
Hamed Shirzadian is a jewelry artist and proprietor of Shirzad Fine Jewelry in Kirkland, Washington. Born in 1991 and of Iranian heritage, he grew up in Bellevue. Shirzadian learned the art of traditional Persian hand-forged jewelry-making from his father, Mohammed Shirzadian, also a master jeweler working in the Persian tradition. As a child, Shirzadian often accompanied his father to work and while traveling abroad, formative experiences that enhanced his natural artistic perspective, particularly those trips spent in Iran. Shirzadian is a Gemological Institute of America Certified Diamond Expert and Master Jeweler, trained across several techniques (such as metal casting and gold plating), a master- of-all-trades within the jewelry-making world. Shirzadian's work draws deeply from his rich background and heritage, from Salmon Days Festivals he attended as a child to his ardent love of Iranian history and culture. Every piece links the contemporary to the historical and the Pacific Northwest to Middle East.
This case features twenty-two jewelry pieces and eight jewelry-making tools. Each piece of jewelry Shirzadian fashions in keeping with ancient Persian techniques, down to specific cuts. While lasers are commonly used in contemporary jewelry-making practice, the pieces in this case are all processed manually. Many emeralds, for example, are shaped in the cabochon style, meaning they are polished smooth by hand instead of cut, a technique rarely used today. This choice lends the stones an authentic, earthly look.
Shirzadian's craft combines newly mined gems and metals with antique survivals. For example, the Neyshabur robin's egg turquoise necklace and pearls date to the Qajar Dynasty (1789–1925), and several pieces blend gems and metals from the Pahlavi Dynasty (1925–1935) with recently sourced materials. The emeralds, rubies, and diamonds showcased symbolize the green, red, and white of the Iranian flag of the Pahlavi Dynasty, shown below. The tools included are of modern make, but closely based on those used in Iran since the 18th century, the birth of modern jewelry-making.