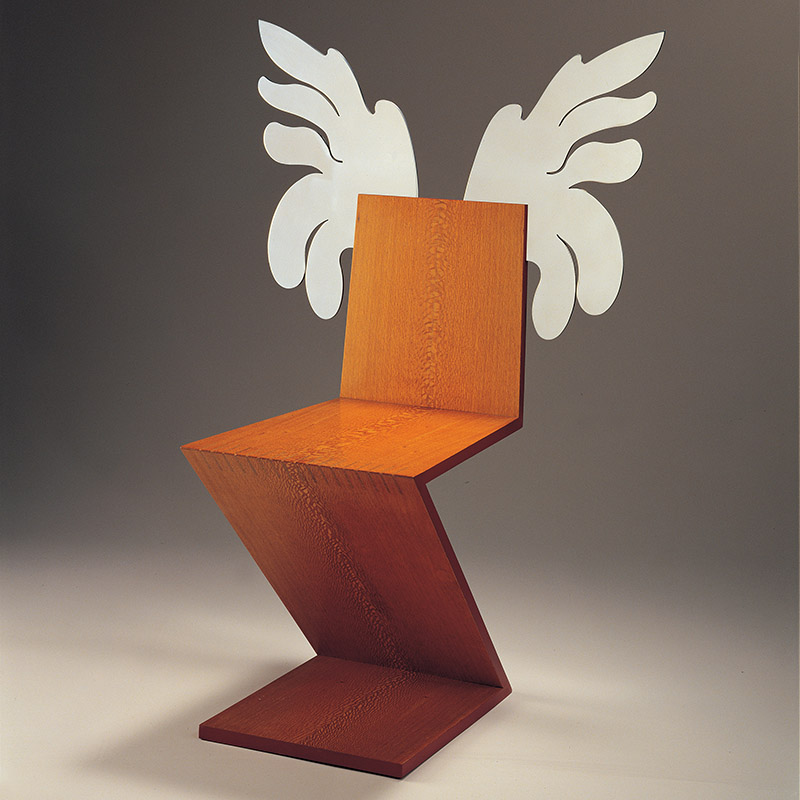 July 06, 2006 - November 26, 2006
Garry Knox Bennett
Call Me Chairmaker
"A good joke is better than bad art," says Garry Knox Bennett. "To understand my art, a viewer has to understand jokes. Good jokes build piece by piece, the little fact that is dropped into the story line, the accumulation of illogical data that flip-flops logic until the unexpected is understood with a joyful rush of logic and justice. The best of jokes gives clues so that you understand the joke just three beats after the teller gives you the punch line."
The exhibition Garry Knox Bennett: Call Me Chairmaker features 52 one-of-a-kind sculptural chairs created by one of the foremost contemporary studio furniture makers in America. Inspired by well-known furniture designers and architects such as Frank Lloyd Wright, Charles Rennie Mackintosh, George Nakashima, and Gerrit Rietveld, Bennett's wit and imagination come to life with such chairs as the Great Granny Rietveld and Wiggle Wright. By using bold new forms and constantly expanding traditional boundaries, Bennett makes furniture a form of art. Each chair incorporates precious materials such as rosewood and yellow satinwood with unconventional materials including plywood, aluminum, brass, plastic, and paint.
Most of the chairs in the exhibit are functional; however, several operate more as symbols than actual seats. Comfort could be impossible; sitting down is even a stretch. All 52 chairs are sculptural in quality and each one awakens a different emotion for the viewer. One example of this is Bennett's Great Granny Rietveld, a creative take-off on the 1934 "ZigZag Chair" designed and built by Dutch architect Gerrit Rietveld. Bennett's version does the unthinkable by design standards, wrapping a retro, delicate floral-pattern upholstery around an ultra-modern, hard-edge functionalist design. Another homage to Rietveld is the Wing Chair, where Bennett added metallic wings as a pun on the classic colonial wing-back chair, modernism met colonial Williamsburg.
Garry Knox Bennett learned painting and sculpture at the California College of Arts in Oakland, California. In the 1960s, he used the skills he learned by creating metalwork sculpture to found a metal plating business, specializing in handmade jewelry. In the 1970s, he began building clocks and then expanded into furniture-making. In 2001, he had a retrospective exhibition at the Museum of Art and Design in New York City. Bennett is represented in the permanent collections of the Smithsonian Institution's Renwick Gallery, the Museum of Fine Arts, Boston, San Francisco Museum of Modern Art, and the Oakland Museum of California as well as many private collections.
Exhibition Credits
This exhibition is organized by Bellevue Arts Museum and sponsored by the Microsoft Corporation. The exhibition is accompanied by a hard-bound, full-color exhibition catalog.