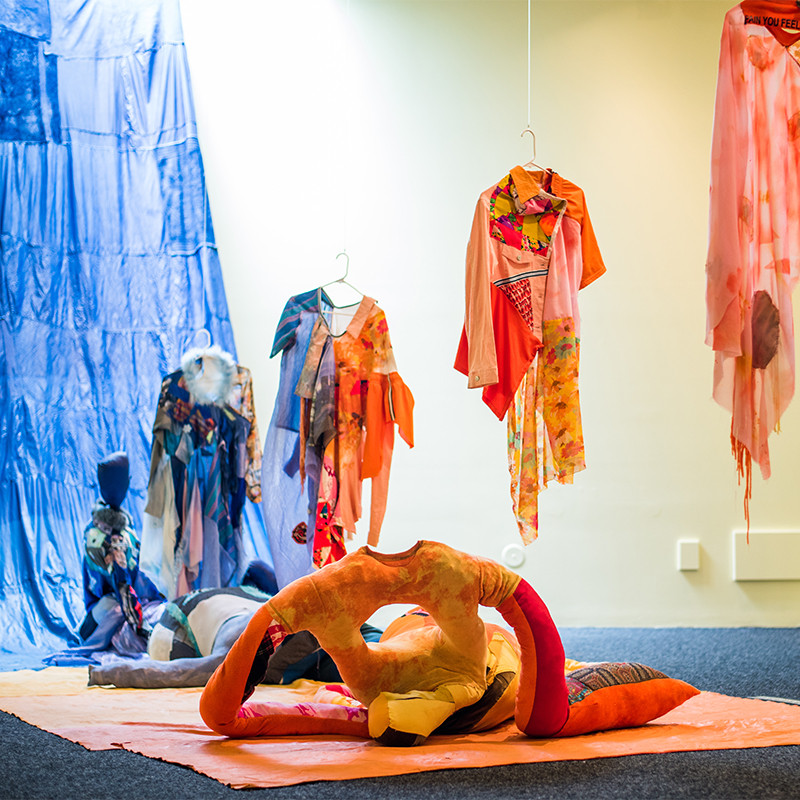 June 01, 2018 - September 30, 2018
FEMAIL
AMPM (2.0)
AMPM
It's looking back while moving forward

AMPM
It's the way you move through life and things just stick to you
AMPM (2.0) is the first museum exhibition from FEMAIL, a Seattle and Los Angeles based fashion collaboration conducted through USPS exchanges. Collaborators Janelle Abbott and Camilla Carper first met at Parsons School of Design in New York. They began their project in 2012 as a way of continuing their friendship after graduation. Although living and working in different cities, Abbott and Carper are able to work together by mailing garments back and forth between Seattle and Los Angeles. Every garment they create is formed through a process of "reactive collaboration" in which each artist can add to or subtract from the work with impunity before mailing it back. Garments are often made with found objects, gifts from friends and family, and items from Abbott and Carper's wardrobes. The process results in fashions densely packed with layers of emotional value and personal history.

AMPM (2.0) is an expansion and reworking of FEMAIL's installation at Out of Sight 2017 in Seattle. Contemplating on the idea of the shifting shape of self through time, and throughout life's various circumstances, AMPM (2.0) represents the necessity of death for the purpose of rebirth into future forms of self, the shapes we shift through in the process, and the methods of travel we use to propel into new and exciting opportunities. This installation by FEMAIL features a collection of the artists' personal garments, textiles, childhood mementos, and keepsakes reinterpreted into new works of clothing, furniture, tapestry, and sculpture.
Exhibition Credit
FEMAIL: AMPM (2.0) is organized by Bellevue Arts Museum and curated by Benedict Heywood.