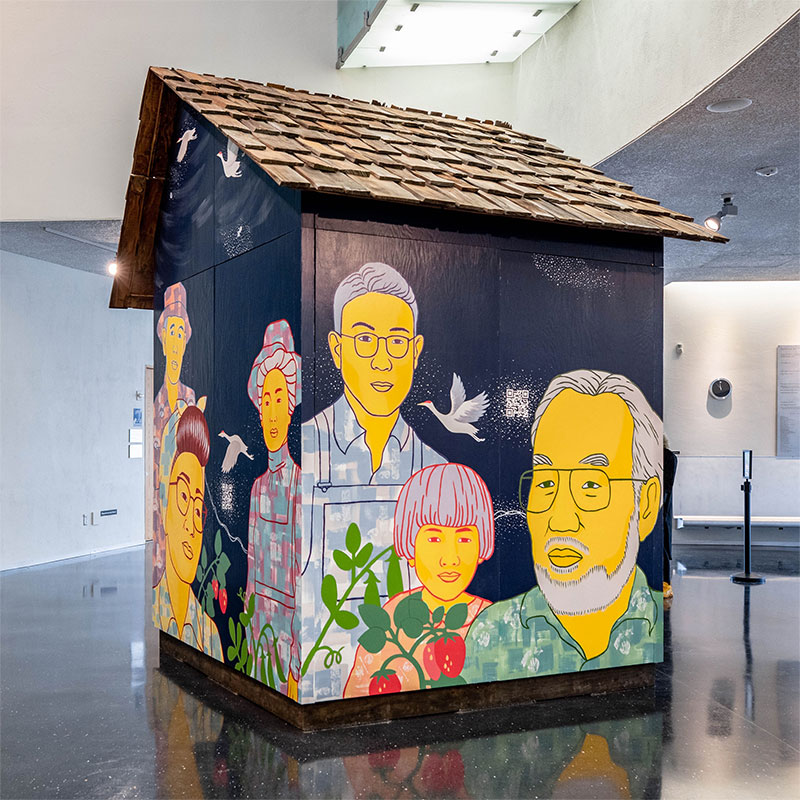 February 03, 2022 - March 13, 2022
Emerging Radiance: Honoring the Nikkei Farmers of Bellevue
Michelle Kumata
Honoring the Nikkei Farmers of Bellevue
Featuring the work of Japanese American artists Michelle Kumata and Tani Ikeda
The area around the site of Bellevue Arts Museum and new Meta offices was farmland where Japanese Americans lived and worked. During World War II, these families were forcibly removed from their homes and incarcerated. 
Artist Michelle Kumata and Creative Director Tani Ikeda have created a mural and immersive storytelling experience that honors the lesser-known story of the Bellevue Japanese American farmers that will be on view in BAM's public forum space through March 13, 2022.
The immersive Farmhouse Mural experience, commissioned by Meta Open Arts, will celebrate the untold stories of Japanese American farmers who lived in Bellevue from 1920–1942 by using Spark AR augmented reality lnstagram filters to let users "meet" the actual subjects as they share in their own words their connections to the land before WWII, during incarceration, and post-WWII.
Visitors will have the opportunity to open their smartphone camera and scan a QR code by following the cranes illustrated on Michelle Kumata's mural to meet Tosh Ito, Rae Matsuoka Takekawa, and Mitsuko Hashiguchi. The stories of these three farmers depicted on the mural come alive through three separate AR filters produced from actual video interviews from the Densho archive of Japanese American farmers from Bellevue.
This artwork aims to educate the public about the history of the land in Bellevue and the forgotten stories of Japanese Americans who were taken from their homes and incarcerated based on their ethnicity. We hope this project serves as a model of resilient storytelling that reconnects us to our history through the land.
 Did you know? The details on each of the Nikkei farmers' clothing represent aspects of their lives. Learn more here »
Now Streaming: Day of Remembrance film
Hear directly from the descendants of the farmers depicted in Kumata's mural and get an inside look at the creation of Emerging Radiance in this film by Tani Ikeda. 
About the artist
Michelle Kumata is a 3.5 generation Japanese American artist with a BFA in Illustration from The School of Visual Arts in New York, NY. She gained acclaim as a graphic artist at The Seattle Times with over a decade's worth of publications. Michelle also served as Exhibit Director at the Wing Luke Museum for 12 years, where she worked with Asian Americans & Native Hawaiians/ Pacific Islanders to amplify their stories through engaging exhibitions.
Michelle is currently exploring the Japanese diaspora in the U.S. and Brazil through oral histories and visual storytelling. Her work has been exhibited at Nordstrom, Frye Art Museum, Center on Contemporary Art, Bainbridge Island Museum of Art, and The Society of Illustrators Museum, New York, NY. Her work is in the collections of Meta, Seattle City Light Civic Art Collection, and the Library of Congress.
In addition to Emerging Radiance, Kumata's Regeneration exhibition, which also reflects on the legacy of the Japanese American incarceration, is on view at Bonfire Gallery February 2 - March 26. 
About the creative director
Tani Ikeda is an Emmy winning director who creates narratives, documentaries, music videos, and commercial films. She is a Sundance Fellow, Film Independent Directors Fellow, and Kenneth Rainin Grant Recipient. Ikeda executive produced and directed a documentary series with the co-founder of Black Lives Matter, Patrisse Cullors, about organizers on the frontlines of the resistance to white supremacy in the era of a Trump presidency. Her work has been recognized in The Hollywood Reporter,Vogue, Cosmopolitan and has screened internationally at festivals around the world including the Sundance Film Festival.
At the age of 21, Tani Ikeda co-founded imMEDIAte Justice, a nonprofit that fosters the talents of young women artists working in virtual reality. She is the current executive director of imMEDIAte Justice and was named one of the "25 Visionaries Who are Changing Your World," by the Utne Reader. ImMEDIAte Justice has received national attention on CNN, NBC, and Univision. Ikeda tours the country speaking at universities and national conferences about storytelling as a tool for social justice.
Tani holds a Bachelors Degree in Film Production from the University of Southern California and currently resides in Los Angeles.
Exhibition credit
Emerging Radiance is presented by Meta Open Arts in partnership with IMMEDIATE JUSTICE, Future Arts, Densho, Invisible Thread, Tsuru for Solidarity, Seattle JACL, Wing Luke Museum, Isan Bellevue, Eastside Heritage Center, and Bellevue Arts Museum. Media Sponsor: Crosscut. In-kind support from Seattle SignShop. 
The Farmhouse construction was brought together by Future Arts, a local community arts+tech organization, with Japanese American architect Jerry Chihara leading the design and Steve Steve Skonieczny constructing the farmhouse.