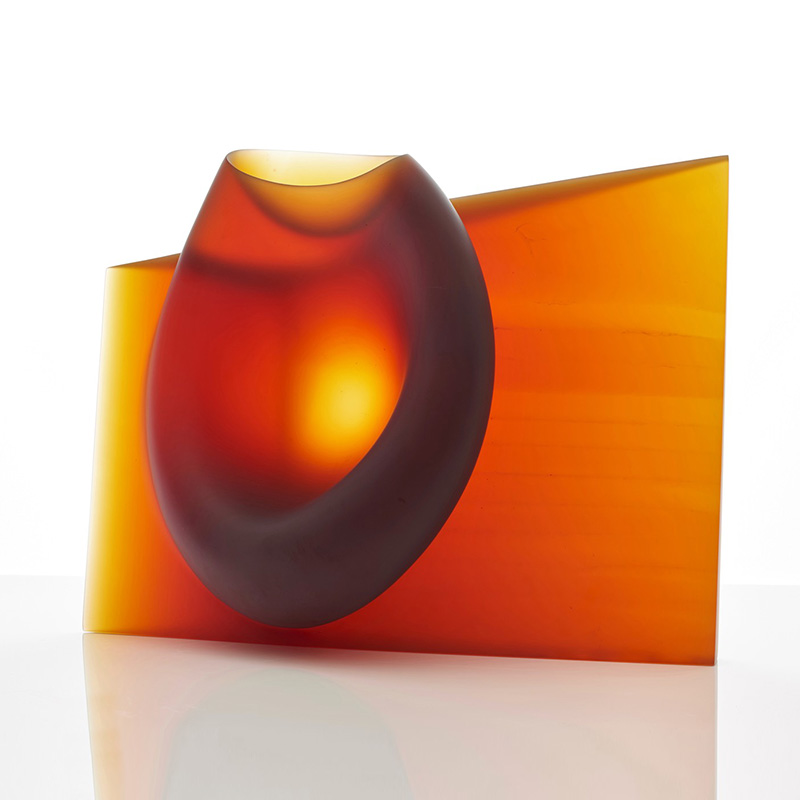 May 26, 2017 - October 01, 2017
Emerge/Evolve 2016
Rising Talents in Kiln-Glass
"[...] technically and conceptually splendid." -Lisa Edge, Real Change
Emerge/Evolve 2016: Rising Talents in Kiln-Glass showcases an international host of emerging artists whose cutting edge work in kiln-glass (or kiln-formed glass) offers a different perspective on the medium. The Bullseye Glass Company started the Emerge competition twelve years ago as a commitment to emerging artists working in kiln-formed glass. Bullseye's Emerge/Evolve 2016 featured 42 finalists—representing 16 countries—alongside new work from 3 former Emerge finalists showcasing the evolution of their talent. The Bellevue Arts Museum exhibition will feature award winners and select finalists from the Emerge 2016 competition alongside the Evolve artists. BAM will host an enriched edition of the exhibition, including additional works from the thirteen selected artists.
Bullseye Glass Company is a small factory in Portland, Oregon. Founded in 1974 by three recent art school graduates, the organization promotes glass art around the world through its initiatives, which include developing new methods of glass fabrication, hand-fabricating colored glass for artists and architects, facilitating research and education in the field, and hosting collaborative artist residencies.
The exhibition is accompanied by a full-color catalog featuring artist statements and biographies, interviews with the Emerge 2016 jurors, and an introduction by Executive Director of the Bullseye Gallery Lani McGregor.
Emerge 2016 Jurors

Stefano Catalani
​Executive Director, Gage Academy of Art​

Kim Harty
Assistant Professor of Crafts - Glass, College for Creative Studies
Editor for GASnews

Sue Taylor
Professor of Art History, Portland State University
Contributing Editor to Art in America

Evolve 2016 Artists


Evolve 2016 features former Emerge finalists and award winners:
Rei Chikaoka –Japan

(Emerge 2010 & 2014)

Matthew Day Perez –USA, New York

(Emerge 2008 & 2010)

Carmen Vetter –USA, Oregon

(Emerge 2006 & 2010)
Emerge 2016 Award Winners


Gold Award
Helen Lee –USA, Wisconsin

Silver Award
Marzena Krzemińska-Baluch –Poland

Bronze Award
Alison Lowry –UK

 


Crossover Award
Ashraf Hanna –UK



 

Gold Academic
Kate Clements –USA, Pennsylvania

Silver Academic
Jeffrey Stenbom –USA, Minnesota

Bronze Academic
Nick Doran Adams –Australia 
Emerge 2016 Finalists


Honorable Mention
Ligia Bouton  –USA, New Mexico

Honorable Mention
Kim Brill –USA, Texas

Honorable Mention
Cheryl Wilson-Smith –Canada
Exhibition Credit
Emerge/Evolve 2016: Rising Talents in Kiln-Glass is organized by Bullseye Glass Company in Portland, Oregon and juried by Stefano Catalani, Kim Harty, and Sue Taylor. The local presentation of this exhibition is curated by Michael Endo.