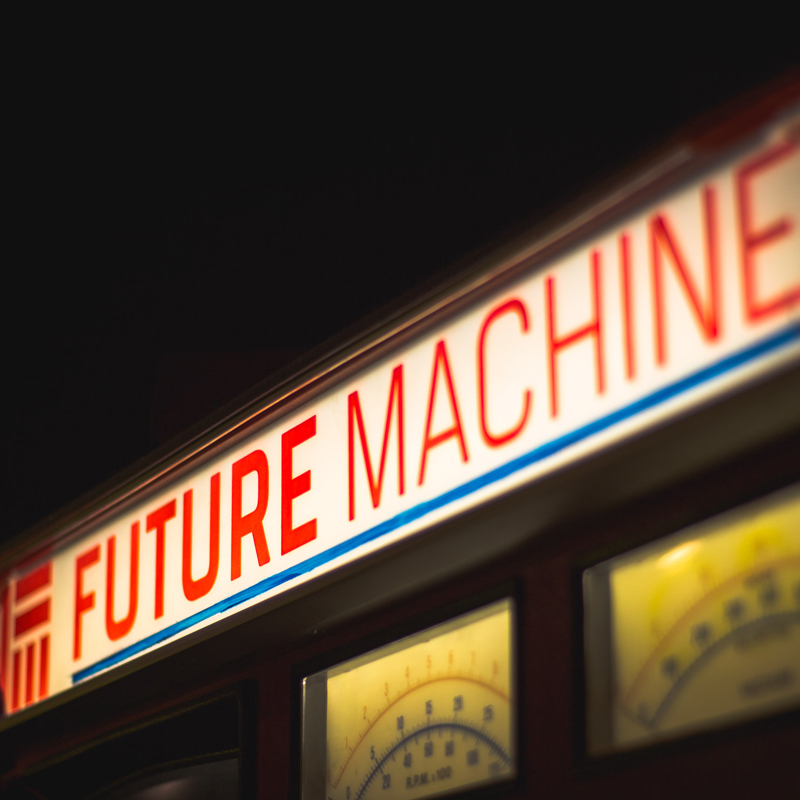 February 03, 2017 - September 10, 2017
Electric Coffin
Future Machine
The future is both a certainty and an unknown territory, occupying much of humanity's thought and activity. How will it unfold? Who controls it? When will it get here? 
Creative art and design studio Electric Coffin is building an apparatus that aims to usher our entry into the future and illuminate the way forward. This Future Machine, a merger of old and new, familiar and alien, utilitarian and vestigial, heralds the role of creativity and collaborations in determining the shape of our future.
Future Machine is an evolving installation by Electric Coffin. Over its seven months at BAM, Future Machine will transform and expand through collaborations with local artists and makers, tradespeople, industry leaders, technology innovators, non-profits, and other creatives—demonstrating the potential for innovation that a blend of diverse voices invites.
The installation will consist of five distinct phases, all of which signal a stage of development in the unfolding of Future Machine: Idea, Fuel, Mechanics, Illumination, and Future. Collaborators will contribute their own unique components to each phase, a metaphor for the way unconventional collaborations work together to drive us forward. The installation will launch with a central energy source (the "Idea"). Through input from a diverse community of participants, the composite machine will gradually grow to fill the gallery. This immersive presentation of Electric Coffin's BAM-sited creative laboratory invites visitors to witness the unfurling of an idea from start to finish as it builds upon the detritus of the past to embody new forms, and functions, and technologies.
A conversation series will be hosted around each phase to foster discussion around the themes in the installation.
Phases & About Electric Coffin
Phase 1: Idea
Electric Coffin initiates the project.
The machine initiates with an idea, its core source of energy. The ancient Greeks defined ennoia as an idea, concept, or thought engaged in the mind. Laced with intent, it can hint at purpose or outline a strategy. No idea germinates on its own: sown in fertile soil, it emerges from the strata of previously conceived thoughts, plans, and actions. Additional components must be engineered for the idea to be effectuated; together, these parts form an apparatus: the Future Machine. The idea is the genesis, the initial spark that ignites the plan into action.
Phase 2: 
Fuel
Exploration of rebirth.
Collaborators: Gustavo Martinez, Savers,  Onni Construction
The word fuel is used to describe a substance that is consumed to power an engine, a body, or a mind.
Future Machine is fueled by a number of sources, both material and ephemeral. These sources encompass knowledge, culture, and the physical remains of industry, mass production, communication, and commerce. Representing the highs and lows of human achievement--the sacred and the profane--they together create the combustible admixture that ignites the progression from one phase to the next.
Phase 3: Mechanics
Where concept is materialized.
Collaborators: Gensler Architecture, Sellen Construction, Andrew Rohrmann, and Aleph Geddis
Though bound to the laws of the natural world, human technology strives to harness nature and to overcome the challenges it presents. Technology has made flight and mass transportation possible, while the heart—the mechanical center of every living organism—can be engineered, transplanted, and artificially produced. 
Mechanics deals with motion and the forces that drive it. The Greek thinkers could not theorize the concept of acceleration and left the question of mechanics to Isaac Newton, whose laws of motion formed the basis for the eventual development of machines and automation. The advent of machines introduced a dialectical way of thinking about mechanization and biology, pitting nature against technology. But can these seemingly opposing systems work in harmony toward a common function, goal, or objective? What are the possibilities engendered by the intersection of technologies occurring in the natural and the built worlds?
Phase 4: Illumination
The organism begins to awaken.

Collaborators: LightArt 3form, Western Neon, and Brandyn Callahan
Poetic and symbolic associations between the naturally occurring phenomenon of light and the expansion of acquired knowledge are ubiquitous in human lore, throughout the cultures of the world. Light—and those who desired, possessed, or squandered it—reflected the narratives and characters that gave radiance to the natural world.
Meanwhile, advancements in our scientific understanding of light parallel the wider story of human technological progress. From lanterns to lasers, humans have worked ceaselessly to engineer mechanisms that harness and focus its unique power. Light provides a beacon that is practical and metaphorical, illuminating a path to progress and consciousness. If, as we must believe, the future represents a promise of enlightenment, we will continue to look to the light for sustenance, knowledge, and inspiration.
Phase 5: Future
Pushing boundaries.
Collaborators: Microsoft and Tangible Interactions
The future envisioned by Electric Coffin is a destination secondary to its explorative, experimental route. Meandering but purposeful, the journey teems with collaborative spirit, creative enterprise, and the joy that comes from transforming raw material into moments of wonder and enchantment. 
Like the creative process, the future embodies uncertainty. How does design navigate this enigma? Design involves strategic ideation in service of a problem. If we didn't care about the future, design as a practice would not exist; design is a link to society and a human expression of what it means to live, create, and chart a course in our world.
This cogenesis of design and future leads ever onward even as our definitions of  "then," "now," and "next" collapse and evolve. And yet, the future remains eternally unreachable, just beyond our grasp. 
About Electric Coffin
Makers of fine art objects and fantastical innovations, Electric Coffin is a multi-disciplinary studio dedicated to high concept and craftsmanship. The studio is comprised of individuals with varied artistic backgrounds that collectively make up what they like to call a "super deluxe art machine." With backgrounds ranging from painting and sculpture to fabrication and graphic design, they have worked on commercial projects ranging from full design builds to specific installation monuments. Founded in 2010 and based in artistically fertile Seattle, Electric Coffin demonstrates curiosity and diverse interests, stoking their desire to effectively narrow the gap between standard commercial mentalities and maintaining their freeform, art-driven methods of working.
Exhibition Credit & Sponsors
Electric Coffin: Future Machine is organized by Bellevue Arts Museum and guest curated by Jennifer-Navva Milliken.