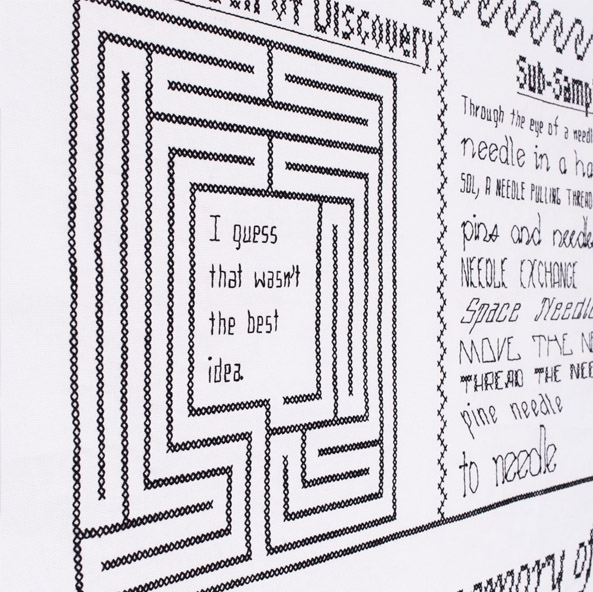 June 10, 2016 - January 15, 2017
Bren Ahearn
Strategies for Survival
Strategies for Survival presents an emotionally charged selection of samplers by San Francisco-based artist Bren Ahearn. Ahearn's embroidery draws from a variety of cultural references. From old samplers to Hello Kitty to American football to cage fighters from TV, his work appropriates these recognizable symbols to question expectations about manhood and its assumed qualities of courage, vigor, and determination. In the artist's hands, needlework—with its history of exclusion from the (capital A) Art world as result of its association with notions of femininity, the triviality of everyday domesticity, and hobby-ish woman's leisure—becomes a narrative device to address the culturally-shunned topic of a man's sensitivity.
Samplers have been used since the 15th century to educate young women about the alphabet, numbers, and the art of needlework, as well as to bestow moral or religious teachings. Bren Ahearn reclaims this craft to transform each of his samplers into a page from a personal and intimate diary filled with the awkward moments, defeats, and discoveries which are the result of dealing with our culture's gendered expectations.
Ahearn's samplers are imbued with feelings of tenderness, innocence, and tongue-in-cheek wits. Their sentimentality, in the positive sense of the word, expresses reliance on one's own feelings as a guide to truth, as place to find strength against conforming expectations, and as strategy for survival.
Exhibition Credit
Bren Ahearn: Strategies for Survival is organized by Bellevue Arts Museum and curated by Stefano Catalani.