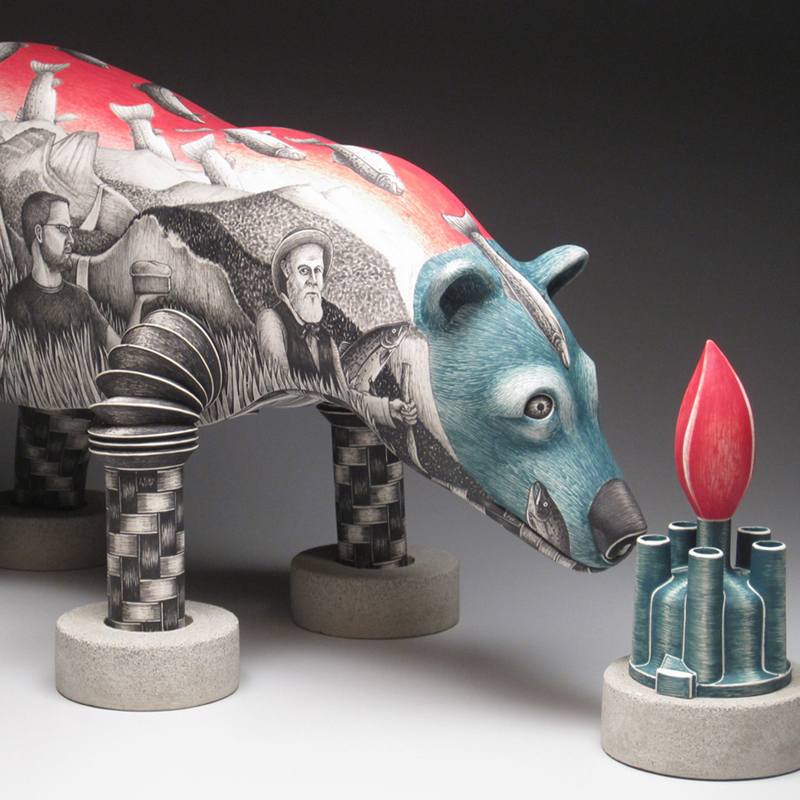 August 28, 2010 - January 16, 2011
BAM Biennial 2010
Clay Throwdown!
"The pieces they've created are so varied and dynamic that it's hard to believe they all began as simple blocks of clay."  -Katherine Banwell, KPLU
"The range of subjects and techniques on display... is striking. And the quality...is stellar." -Michael Upchurch, Seattle Times
BAM Biennial 2010: Clay Throwdown! is the inaugural edition of BAM's new, juried exhibition series. With over 30 participating artists, it provides a panoramic survey of ceramic art created in the Pacific Northwest and a glimpse into the many directions in which this dynamic medium is moving.
Clay Throwdown! features a select blend of both emerging and established artists with an emphasis on new and site-specific works. It reflects the diverse responses of contemporary artists to one of the oldest media known to man: clay. From personal gestures to commentary on today's social issues, Clay Throwdown! assembles a wide range of voices unique to the Pacific Northwest and our time.
2010 AWARDS
John & Joyce Price Award of Excellence: Dirk Staschke
Samuel & Patricia Smith People's Choice Award: Nathan Craven
Artists
| | |
| --- | --- |
| Chris Antemann (OR) | Yuki Nakamura (WA) |
| Brian Benfer (WA)  | Richard Notkin (MT) |
| Nicholas Bivins (MT) | Nicholas Nyland (WA) |
| Frank Boyden (OR) | Arun Sharma (WA) |
| Nathan Craven (MT) | Ken Shores (OR) |
| Daniel Duford (OR) | Mike Simi (WA) |
| Sean Erwin (MT) | Kevin Snipes (MT) |
| Robert Fornell (WA) | Dirk Staschke (BC) |
| Carol Gouthro (WA) | Brendan Tang (BC) |
| Damian Grava (WA) | Timea Tihanyi (WA) |
| Heidi Preuss Grew (OR) | Tip Toland (WA) |
| Charles Krafft (WA) | Kathy Venter (BC) |
| Cynthia Lahti (OR) | Jamie Walker (WA) |
| Kate MacDowell (OR) | Jason Walker (WA) |
| Paul Mathieu (BC) | Patti Warashina (WA) |
| Sequoia Miller (WA) | Gwendolyn Yoppolo (MT) |
| Saya Moriyasu (WA) |   |
BAM Biennial is a juried exhibition that occurs every two years starting in 2010. It brings attention and exposure to the work of contemporary artists and craftsmen in the Pacific Northwest. For each edition, the Museum designates a new focus, exploring a specific medium, technique, process or theme in art, craft and design, the Museum's artistic focal point.

More than 170 proposals were submitted to the 2010 edition which is focused on the theme of clay. 34 artists have been selected to participate in the competition. Submissions were reviewed by a select panel of four jurors comprised of: Bif Brigman, collector (Seattle, WA); Stefano Catalani, Director of Art, Craft, & Design, Bellevue Arts Museum (Bellevue, WA); Akio Takamori, artist (Seattle, WA), and Namita Wiggers, Curator, Museum of Contemporary Craft (Portland, OR)