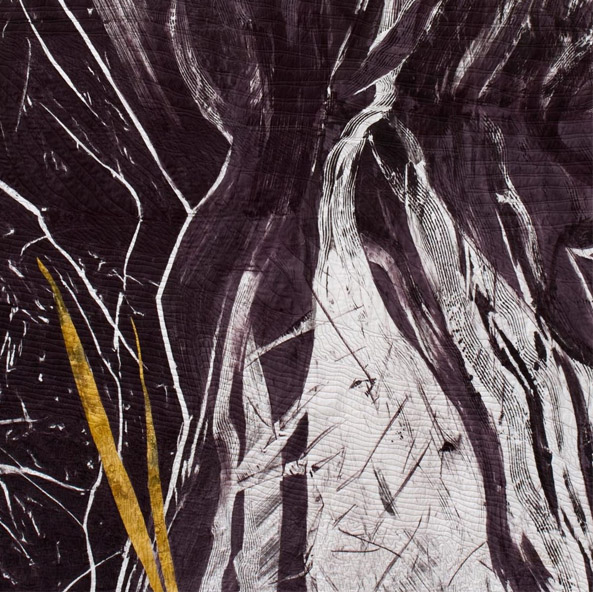 February 24, 2017 - June 11, 2017
The Contact
Quilts of the Sierra Nevada by Ann Johnston
The Contact features over 30 of Ann Johnston's large-scale quilts inspired by the California Sierra Nevada range. Johnston's quilts—made from cloth that the artist has dyed herself—make creative use of patterns and textures to create literal, abstract, and sometimes completely imaginative representations of the area. These works demonstrate the mastery with which Johnston uses different processes in her fabrics to produce fascinating pieces that draw viewers in, powerful on their own and cohesive as a series.
The artist's connection to the Sierra Nevada is strong. Her family has held a mining claim near Tioga Pass since the 1800s and she considers the area to be a place of power and fascination. The collection of work presents subjects that visitors of the Sierra Nevada might recognize—bands of colors in the earth, mineral-rich rock layers that have been squeezed and heated over centuries, mountain peaks, lakes, and rock formations.  The word "contact" in the exhibition's title has a double meaning. It refers both to a place where geologic units touch each other as well as alluding to the human influence on the landscape. The forests, the rivers, and even the mountains themselves have been shaped forever by people seeking their fortunes.
Ann Johnston has a degree in Literature from Stanford University, and a Masters in Geography from the University of Oregon. She taught for the Peace Corps in Lima, Peru before raising two sons in Oregon with her husband. She has enjoyed quilting since 1975, beginning with traditional patterns and progressing to fabric dying and the large variety of quilts she creates today.