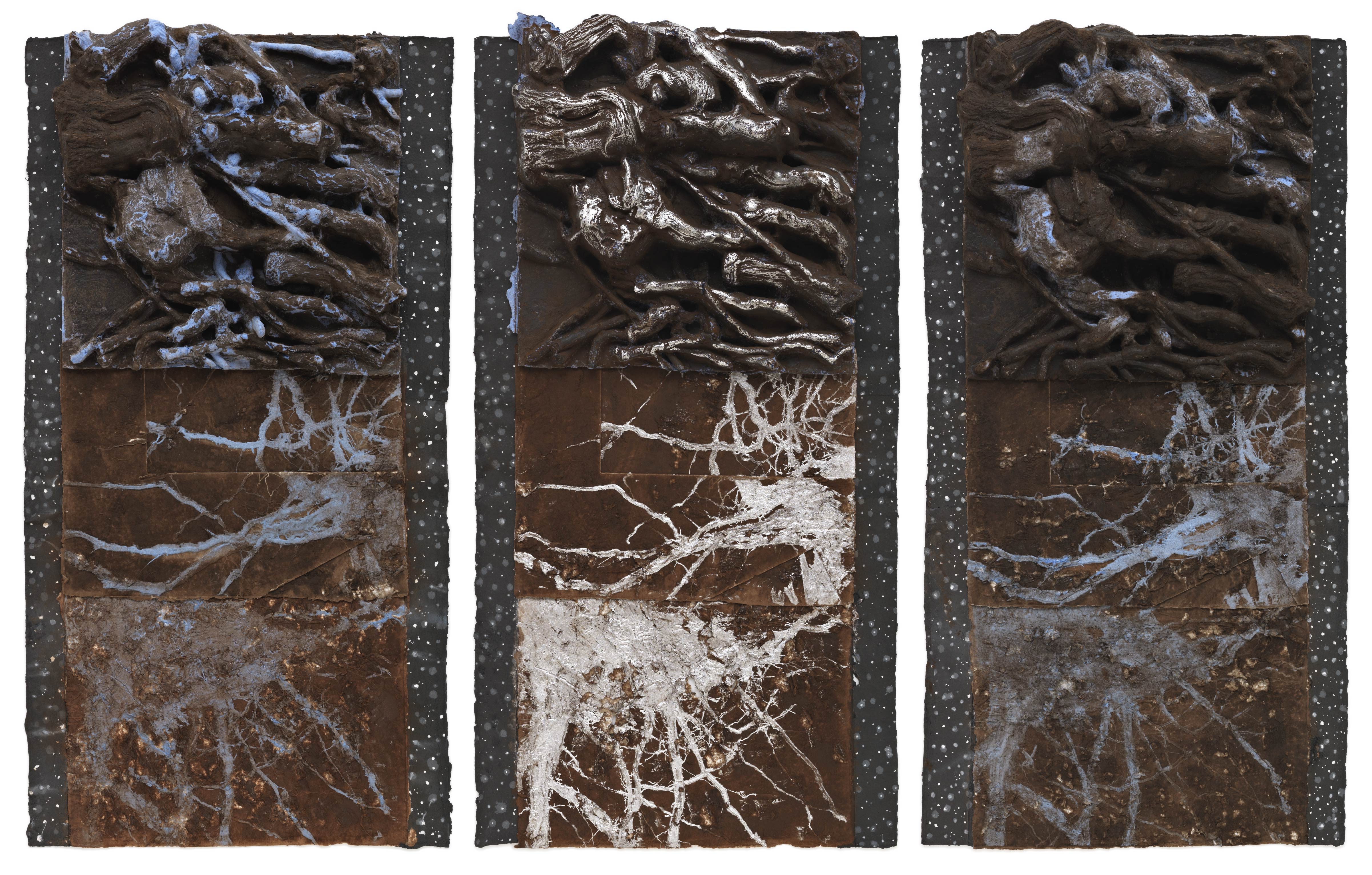 March 25, 2023 - December 31, 2023
Leonardo Drew
(Installation) 56P, edition 1/3, 2016
Leonardo Drew's print 56P is at once powerfully large yet fragile, testing the versatility of the medium of print, transforming cotton paper pulp and pigment into what suggests maps of geographical landscapes viewed from above. Much like his sculptural installations in wood, such as the monumental 215b seen in the Strange Weather exhibition on our 3rd floor, Drew starts with a raw material, transforming and reconstructing its essence until it resembles debris. One can find many meanings in Drew's work but through this process Drew explores the cyclical nature of life and a visual erosion of time. 
Drew's natural talent and passion for art was recognized at an early age, first exhibiting his work at the age of 13. He went on to attend the Parsons School of Design and received his BFA from the Cooper Union for the Advancement of Science and Art. Drew's works are in numerous public collections including the Metropolitan Museum of Art, New York; Solomon R. Guggenheim Museum; The Museum of Contemporary Art, Los Angeles; and Tate, London, among others as well as collaborating with Merce Cunningham on the production of "Ground Level Overlay."  Recent solo museum exhibitions include the Mississippi Museum of Art, Jackson; de Young Museum, San Francisco; and Palazzo Delle Papesse, Centro Arte Contemporanea, Siena, Italy.
Featured: Leonardo Drew (Installation) 56P, edition 1/3, 2016. Image Courtesy: Leonardo Drew and Pace Prints
About Jordan D. Schnitzer and His Family Foundation
Exhibition Credits
Strange Weather and Glenn Ligon: From the Collections of Jordan D. Schnitzer and His Family Foundation is curated by Dr. Rachel Nelson, Director, Institute of the Arts and Sciences, UC Santa Cruz and Professor Jennifer González, History of Art and Visual Culture, UC Santa Cruz, with assistance of Madison Treece for the UC Santa Cruz Institute of Arts and Science. The exhibition was organized in partnership with the UC Santa Cruz Institute of Arts and the Jordan Schnitzer Family Foundation.
Presented by Jordan Schnitzer and The Harold & Arlene Schnitzer CARE Foundation. Sponsored by Microsoft, Rebecca A. Lyman in honor of her mother Eloise B. Armen, 4Culture, Laura Dillaway, ArtsWA, City of Bellevue, Cathay Bank, and ArtsFund. Media Partners: The Seattle Times, The Stranger, 425Magazine, KCTS9, KNKX.
Bellevue Arts Museum is generously supported by its donors and members.