Museum Hours
Monday & Tuesday
Closed
Wednesday – Sunday
11am

–

 5pm
Free First Fridays
11am

–

8pm
Store Hours
Monday
Closed
Tuesday – Sunday
11am

 

–

 5pm
Free First Fridays
11am

 

–

 

8pm
Admission
| | |
| --- | --- |
| Members | Free |
| Children under age 6 | Free |
| Teens (with Teen Tix) | $5 |
| Youth (7–17) | $8 |
| Student/Seniors/Military (ID required) | $12 |
| Adults | $15 |
| Family | $35 |
Free First Friday
BAM's Free First Friday program offers free admission to the Museum the first Friday of each month. The museum has extended hours from 11am – 8pm, and offers special lectures, tours, presentations, and programming throughout the day. 
Student Wednesday
Students are invited to visit BAM for free every 2nd Wednesday of the month using our online coupon
Holidays & Closures
 BAM is closed on the following days:
New Year's Day
Martin Luther King, Jr. Day
Easter Sunday
Artful Evening (Saturday, June 13, 2020)
Independence Day
Labor Day
Thanksgiving
Christmas
Admission is always free for members.
Location
510 Bellevue Way NE, Bellevue, WA 98004
Get directions
425.519.0770
Parking
BAM offers free parking in its garage during museum hours. The garage closes 30 minutes after museum closure. The garage entrance is on Bellevue Way and is accessible when approaching from the south. 
Public Transit
Routes 234/235, 240, 271, 271, 550, 555/556 all stop at the Bellevue Transit Center, within walking distance of the Museum. Please check out King County Metro's Trip Planner or call 206-553-3000 for trip planning assistance.
BAM has many different tour and group options to fit a variety of needs. Docents are also available in the galleries during peak museum hours to speak with guests about the artwork and artists.
Daily Public Tour
BAM offers a daily public tour at 1pm. A BAM Docent will meet tour attendees in the Museum Forum and provide a guided tour for a current exhibition. No RSVP required.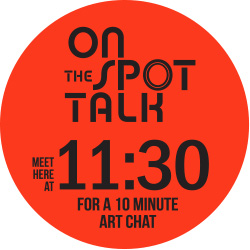 On The Spot Talks
You may discover one of our new On The Spot Talks offered throughout the day. On The Spot Talks are 10 minute chats given by a BAM Docent spotlighting a work of art. Keep an eye out for the "Spot" on the gallery floor for the location of the chat. No RSVP required.
Private Tours 
BAM offers private docent-led tours with at least two weeks' advance notice. Note that we do not offer private tours on free admission days (such as Free First Fridays).
School & Youth Tours
BAM offers school tours specifically shaped to your students' grade level and interests. We invite you and your class to pay us a visit. A tour of Bellevue Arts Museum's galleries serves as a great extension of your classroom work and provides wonderful opportunities to develop projects and assignments that relate to the works on display to your curriculum.
Language Tours
BAM offers tours in Dutch, French, German, Italian, Korean, Mandarin, and Swedish. Language Tours are intended to foster conversation skills and are recommended for advanced speakers. 
Free with admission.
Groups
BAM offers discounted group admission for 10 or more participants. No advance reservation required. 
Student: $8 per person
Senior/Military: $10 per person
Adult: $12 per person
There is so much to see and do at BAM! Below are some tips for planning your visit, what to do while at BAM, some suggestions for looking at art with children, and ideas for continuing the conversation. 
Before you arrive
Find out about BAM's exhibitions to see what might interest you and your family.

Consider attending one of the Museum's many free or low-cost Kids & Family Programs.

Decide if you'd like to schedule a guided tour at no extra cost.

Talk to your children about museum guidelines. Please explain that artworks are fragile and cannot be touched as oil and dirt from fingers can cause permanent damage.

Bringing a stroller? Not a problem! Typically single strollers are permitted, though this policy is subject to change with new exhibitions due to lender restrictions. Please inquire at Guest Services at the beginning of your visit to find out the current stroller policy. Double strollers are always restricted, regardless of exhibition. In the case of a restriction, strollers may be parked in our self-service Locker & Coat Room on the 1st floor.
While at BAM
Try not to see too much in one visit and remember to take breaks. Depending on your child's age, we recommend to aim for 30 to 90 minutes per exhibition.

Have fun playing and making your own art at one of BAM's Imagination Stations.

If the weather is nice, visit the Museum's Court of Light Sculpture Garden for a little sunshine.
Looking at art
Looking at art is an interactive experience. Stop, watch, and talk about the things you see. Here are some questions to help spark conversation:
What do you see? 

How old do you think this object is?

Do you like it? Why?

How does it make you feel?

What is it made from?

What is it used for?

Who would own an object like this?

What do you think the artist was thinking when s/he made it?
After your visit
Talk about what you saw at the Museum. What were your favorite artworks and why? Which artworks did you not like? Why?

Start curating your own collection with the artwork you made during your visit to BAM. How would you arrange and display the objects? What other objects might you add to your collection?


BAM is wheelchair accessible. An induction loop is provided for the benefit of hearing aid users at Guest Services and in the Auditorium. Please look for the following symbol to learn where this service is active.


Here are some tips and guidelines to get the most out of your visit to BAM.
Store Your Belongings
Please store oversized parcels, backpacks, purses, and bags at Guest Services. A coatroom with lockers is available on the first floor.
Get Close, but Please Do Not Touch 
While we encourage visitors to get up close to the artwork, we ask that you do not touch the art. Artworks are fragile, and natural oils, salts, moisture, and small particles on our hands can cause permanent damage. Please also refrain from leaning against walls.
Take a Picture Whenever You Can
Still photography for personal, non-commercial use is allowed in most areas of the Museum, depending on the exhibition. Visitors are welcome to take pictures in the Museum Forum (1st floor) year-round. No tripods, no flash, and no video cameras please. Galleries where photography is not permitted are clearly marked with the following symbol.

Make Your Own Art
Feeling inspired? Visit one of BAM's Imagination Stations located throughout the Museum and make your own artwork to take home. Great for visitors of all ages!
Sketch Away
Make a sketch of your favorite artwork. Pencils and clipboards are available free of charge at Guest Services. No ink, paint, or easels please.
Kids, Watch Out for Your Parents
BAM is a great place for even the youngest visitors. We ask that children under the age of 12 be accompanied by an adult at all times.


Visit the Museum Store
No Museum visit is complete until you've stopped by the Museum Store. Shop for unique, hand-made gifts made by artists from the Northwest and around the world. 
Attire
Visitors are required to wear proper attire (as determined by Museum personnel in their sole discretion) while on the Museum property. Shirts and shoes must be worn at all times.
Food & Drinks
Food and drinks are only allowed in the Museum Forum (1st floor), including the Community Education Gallery which provides seating.
Electronic Devices
To ensure an enjoyable visit for all visitors, please refrain from talking on your cell phone and other electronic devices in the galleries.
Free WiFi
Free WiFi is available in the Museum Forum (1st floor).
Parking
BAM provides free parking. The parking garage will be locked 30 minutes after the Museum closes. To retrieve your vehicle after hours at your own expense, please contact Ibsen Towing at 425.644.2575.
Court of Light Sculpture Garden
Located on the third floor, the Court of Light Sculpture Garden showcases a changing group of large-scale works by regional, national, and international artists.
Design
Originally designed by Washington architect Steven Holl, the Court of Light's north wall follows the curve of the 48th parallel, allowing visitors to watch the sun trace the arc of the wall during the summer solstice.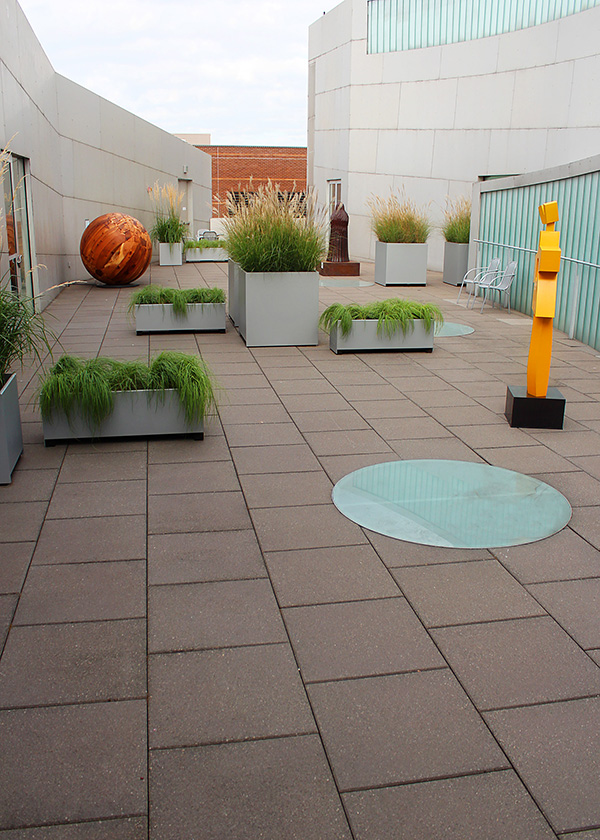 Community Education Gallery
Through BAM's Community Education exhibitions, we celebrate and nurture the community by featuring student work and exhibits that promote educational enrichment and cultural awareness. The Community Education Gallery is open during regular Museum hours and is free to the public.
 Interested in being featured in the Community Education Gallery? 
Learn how to submit a proposal
Modern Mythology
Artwork by BFA Faculty at DigiPen Institute of Technology
October 4, 2019 – January 5, 2020

From the ancient caves of Lascaux and Altamira, to today's computer-generated imagery in films and games, there is one common thread: story. Myths are the connective tissue of past and present, across all social classes and cultural strata, and have played a vital role in the development of every civilization. This exhibition serves as a reminder that mythology can act as an armature for stories large and small, that we can channel the voices of our respective ancestors into a modern context.  
In Modern Mythology, the DigiPen BFA Faculty pay homage to these voices of inspiration through their own artwork. DigiPen Institute of Technology provides training and degree programs in digital art and animation, computer engineering, game design, music and sound design, and other computer science specializations. Artists in this exhibition all teach various disciplines in the Fine Arts, Digital Arts and Animation, and Production Departments at DigiPen's primary campus in Redmond, Washington. These creatives and faculty members are inspiring and instructing the next generation of digital artists, animators, and designers.
To learn more about DigiPen Institute of Technology, visit digipen.edu.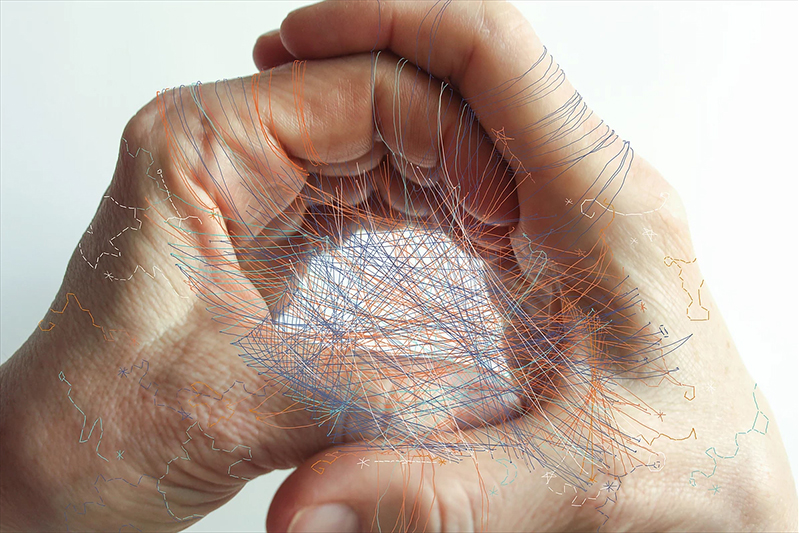 Randi Ganulin, Constellation: An Origin Myth. Image courtesy of DigiPen
Activity stations for all ages are located throughout Bellevue Arts Museum. Open daily during Museum hours. Free with admission/Free for members
Second Floor Stations
Magnetic Motion
Learn how objects interact and move through space! You'll arrange the tubing and ramps on our walls into a design that creates a path for your ping pong ball to make the journey from the top of the wall to the bottom.
Getting the Hang of It
Balance is one of the most basic principles of design. People are drawn to balance—being off balanced can mean falling over! In art, craft, and design, balance is the even distribution of actual or visual "weight" throughout the composition. A balanced work of art won't just not topple over, but will feel visually even and steady in its arrangement. Hang the weights by their hooks on the silver shapes. What are the different ways you can make them balance? Can you make them balanced physically by adjusting the size and placement of the weights? Can you make them balanced visually by moving around different colors and shapes?
Community Portrait Wall
Each person plays an important part in what makes our community unique and welcoming. Draw your portrait featuring yourself and your favorite things, places, and activities to express your place in our BAM community!
Third Floor Stations
The Funnies
Robert Williams is a painter, cartoonist, and the founder of Juxtapoz Art & Culture Magazine. He is known for his figurative artwork that features interesting characters, odd stories, and bright colors. 
Create your own Robert Williams inspired comic strip! First, decide on your story and sketch out your basic idea in the frames. Next, add speech bubbles to your characters. Finally, add detail and color to your frames. What comics inspire you? How does size and composition affect your comic? Does your comic have a sequel?
Reduce/Reuse/Recreate
During her artist residency at Recology, a resource recovery company that reclaims materials that were headed for a landfill, Maria Phillips created a series of sculptures out of materials you might throw in the trash.
Help us create a mobile by adding a work of art made out of single use, recycled, and reused items. How can you make something original out of unusual materials? Use interesting textures and patterns to design something unique!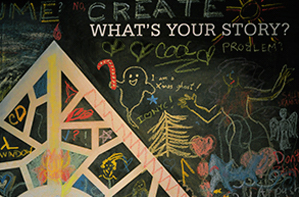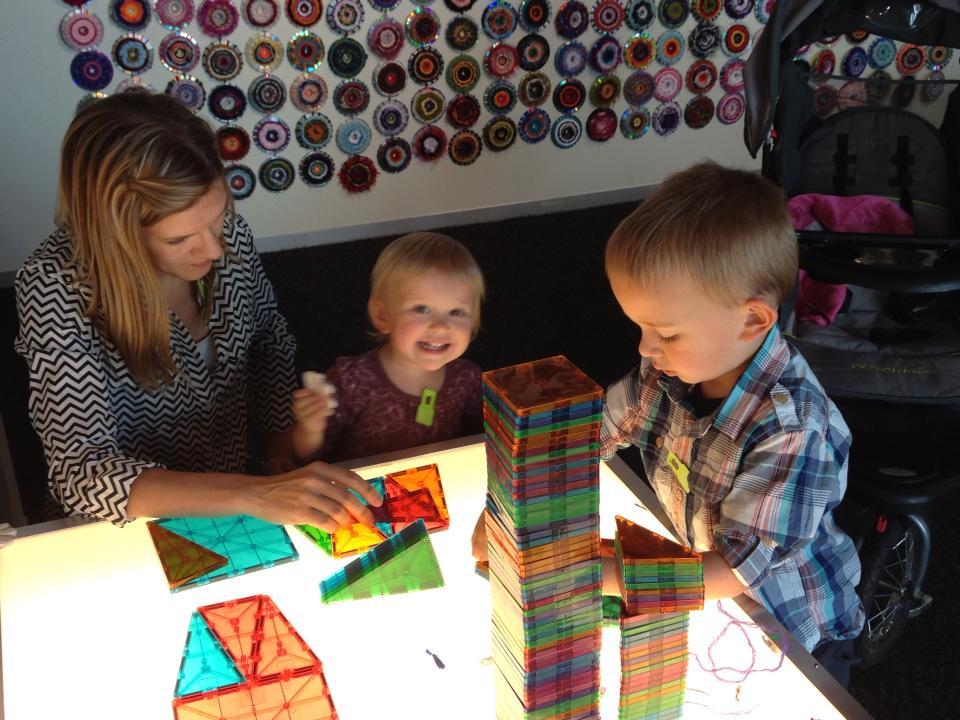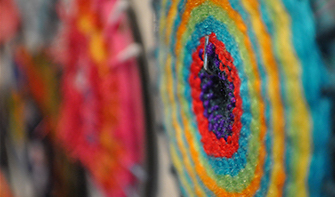 Shop at the BAM Store
Featuring Northwest artists, handcrafted designs, & unique gifts.
Museum Members receive a 10% discount on all Museum Store purchases.
All proceeds support the development of exhibitions and programs. Your shopping makes a difference!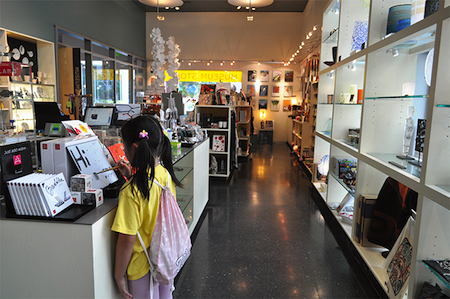 Store Hours
Mon: Closed
Tue – Sun: 11am – 5pm
Free First Friday: 11am – 8pm
 
Bellevue Arts Museum Store
retail@bellevuearts.org
425.519.0722