Tricia Stackle
Color Spectrum Collection, 2022
From the Chromatic Gestures series
Rolled aluminum, foam, hand-stitched wool upholstery, nylon thread
Chromatic Gestures are sculptures designed for the human body. The modular forms are arranged to create colorful compositions that mimic children's blocks and function as minimalist furniture. By interacting with the pieces, the viewer becomes a participant as well as a visual element in the artwork itself, transforming the sculpture into a performance. Color Spectrum Collection was specifically commissioned for ongoing display at Bellevue Arts Museum, to offer visitors engaging and unique places to contemplate the works of art on display throughout the galleries.
Chromatic Gestures were born from the artist's desire to transform the way we live  within our home and public environments. By replacing traditional fixed-use furniture with these beautiful, colorful art objects, we simultaneously engage our visual senses, creativity, and bodies in open-ended, playful, and therapeutic experiences. We can rock, stretch, lounge, and play in evolving ways as we age and grow.
Tricia Stackle is an artist and designer living and working in Skagit Valley, in Mount Vernon, WA. Inspired by simple, geometric shapes, color, tactile materials, and the human body, she is committed to rethinking the way people live with and relate to art and design. Whether creating fine art or design objects, quality craftswomanship is at the forefront of her artistic ethos. Learn more about her work at triciastackle.com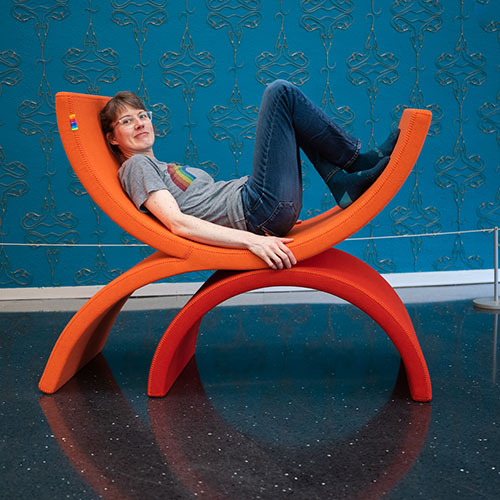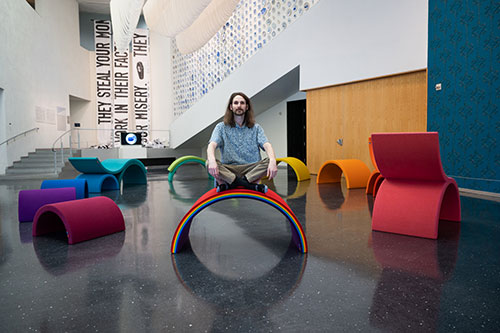 Dylan Neuwirth
SCREENS, 2018
Aluminum, argon, mercury, glass, copper, 104 transformers, DMX controller, relays, isolator, hardware
SCREENS was commissioned by Bellevue Arts Museum as a new work for the Forum. The Forum space at BAM was designed as a gathering place for the citizens of Bellevue. As such, SCREENS was commissioned as a work that would operate both within and without the Museum, at night and in the gloomy days of a Northwest winter.
The complex interplay of fluorescent tubes of this sculpture is a form of artificial static. In our digital future of man-made ones and zeros, our personal screens have lost access to natural raw static, the faint analogue trace of the immense powers that created the universe billions of years ago. Neuwirth sees this as a loss, since that low buzz of the late-night CRT television screen connected the private and personal to the unimaginable expanses of interstellar space and time.
Neuwirth' s static is man-made, of course, programmed by him and his collaborators. One of the artist's influences is the 1982 Ridley Scott tech-noir movie, Blade Runner, where Harrison Ford pursues artificial humans through a depopulated Los Angeles of 2019. Like SCREENS, movies are artificial contracts, rather than reality itself, but this sculpture invites you to pause, reflect, and imagine yourself hunting down replicants on the rain-soaked mean streets of downtown Bellevue.  'She may not live…but then again, who does?"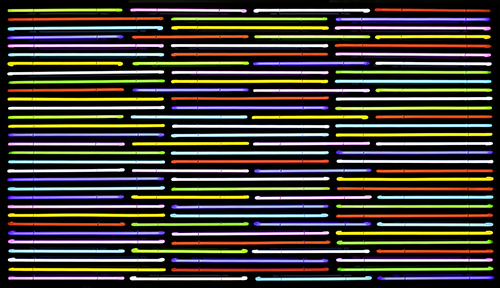 Ko Kirk Yamahira
Untitled, 2018
Acrylic, graphite, unwoven canvas, wood
Courtesy of the artist
The work of Ko Kirk Yamahira is monumental in scale, yet obsessionally domestic in execution. The sculptures currently on view at BAM were created by the meticulous craft of unravelling, parting, and disentangling a single sheet of artist's canvas. The manipulation of canvas is one of the first skills taught an art student, a vital preparation for the life of a painter. Here, where another artist might have simply stretched a canvas in preparation for a painting, Yamahira has deconstructed this ritual of preparation, bending the raw fabric surface of art to his own needs.
This act of simultaneously fabricating an artwork whilst destroying a canvas, is both a mirror and meditation on the creative act itself. While visually, the sculpture could be seen as part of modernist, minimalist tradition, albeit reflected through the lens of craft practice, the reflexive impulse to create while destroying, to find beauty through the veil of decay, to revel in the unravelling, is a metaphor for the search for meaning that can be found in the most simple of mundane tasks.
The Forum at Bellevue Arts Museum is unique in that it affords the visitor an opportunity to view sculpture, art in three dimensions, fully in the round. We encourage the visitor to ascend to our second and third floor galleries via the main staircase and appreciate how this work changes as your own viewpoint modulates in three dimensions.
Ko Kirk Yamahira is an artist living and working in Seattle WA.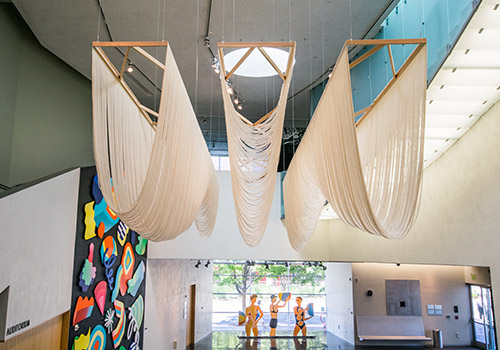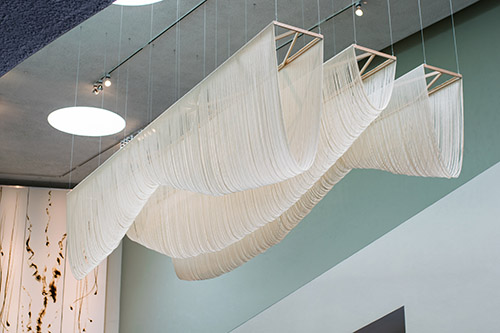 Hamed Shirzadian
(Extended through Sunday July 2, 2023)
Twenty-two jewelry modern pieces and eight jewelry-making tools crafted in 18th and early 20th century Persian tradition.
Hamed Shirzadian is a jewelry artist and proprietor of Shirzad Fine Jewelry in Kirkland, Washington. Born in 1991 and of Iranian heritage, he grew up in Bellevue. Shirzadian learned the art of traditional Persian hand-forged jewelry-making from his father, Mohammed Shirzadian, also a master jeweler working in the Persian tradition. As a child, Shirzadian often accompanied his father to work and while traveling abroad, formative experiences that enhanced his natural artistic perspective, particularly those trips spent in Iran. Shirzadian is a Gemological Institute of America Certified Diamond Expert and Master Jeweler, trained across several techniques (such as metal casting and gold plating), a master- of-all-trades within the jewelry-making world. Shirzadian's work draws deeply from his rich background and heritage, from Salmon Days Festivals he attended as a child to his ardent love of Iranian history and culture. Every piece links the contemporary to the historical and the Pacific Northwest to Middle East.
This case features twenty-two jewelry pieces and eight jewelry-making tools. Each piece of jewelry Shirzadian fashions in keeping with ancient Persian techniques, down to specific cuts. While lasers are commonly used in contemporary jewelry-making practice, the pieces in this case are all processed manually. Many emeralds, for example, are shaped in the cabochon style, meaning they are polished smooth by hand instead of cut, a technique rarely used today. This choice lends the stones an authentic, earthly look.
Shirzadian's craft combines newly mined gems and metals with antique survivals. For example, the Neyshabur robin's egg turquoise necklace and pearls date to the Qajar Dynasty (1789–1925), and several pieces blend gems and metals from the Pahlavi Dynasty (1925–1935) with recently sourced materials. The emeralds, rubies, and diamonds showcased symbolize the green, red, and white of the Iranian flag of the Pahlavi Dynasty, shown below. The tools included are of modern make, but closely based on those used in Iran since the 18th century, the birth of modern jewelry-making.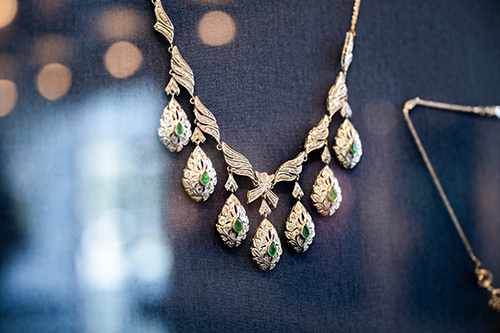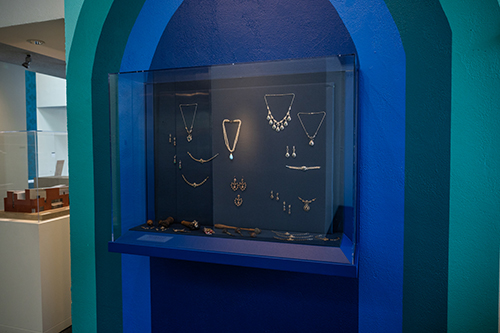 Damien Gilley
Wayfinder, 2018 
Acrylic paint
Museum Garage
Damien Gilley is an installation artist based in Portland OR whose work extends the limits of drawing and sculpture in site specific architectural interventions. Wayfinder is located throughout the parking lot of Bellevue Art Museum and serves as an abstract wayfinding gesture. The geometric forms react to the various wall angles to provide moments of dimension through forms that find stability in certain viewing angles and respond to the various wall angles.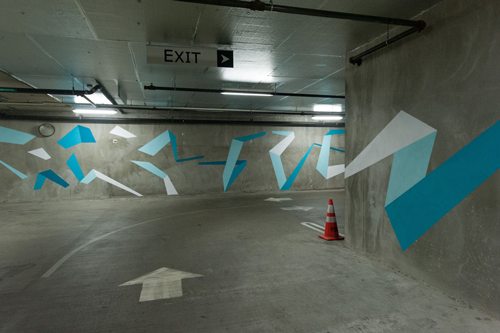 Henry Jackson-Spieker
Lattice, 2017 
Lattice, wood, cast bronze, blown glass, steel, aircraft cable, and hardware, 12'x10'x10′
Museum Entrance
Originally exhibited at Seattle Center in 2017, Lattice represents a synthesis of the work of Washington artist Henry Jackson-Spieker. A multi-disciplinary artist, and instructor at Pratt Fine Arts Center, Jackson-Spieker is capable of working across media to create monumental sculpture that is part object, part ornament. Lattice is part of the artist's Tension Sculptures, crafted works that exhibit materials and forms in an oppositional, yet balanced relation. Formed from cast bronze, reclaimed Californian redwood, aircraft cable, and Seattle blown glass, Lattice acts as a piece of jewelry for a building, matching material, form, and tension in a perfect and contemplative equilibrium. A piece of calm for the center of a busy downtown.
Henry Jackson-Spieker is from and currently based in Seattle, WA.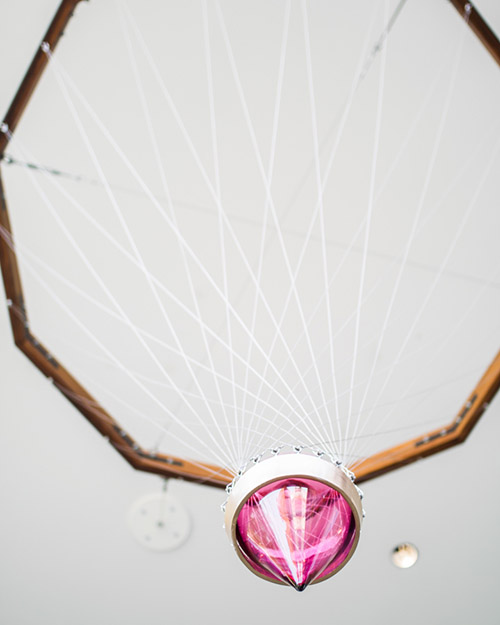 Eric Fisher
Utopic Sound, 2021
Digital print on panel
Museum entrance
This science-fiction scene presents an imagined vision of the Bellevue skyline and Puget Sound area, creating a landscape where sky, sun, rainclouds, moon, land, and sea all melt together. The result is a drippy cross-section of interconnected biomes, at once arid and vivacious, in which complimentary colors ping against one another. Abstracted birds, buildings, and celestial bodies all exist on the same fantastical plane. This panoramic utopia is a reminder of the magic found within the beautiful and strange world we inhabit, wherein nature, humanity, and futurism seamlessly combine.
Eric Fisher is a designer, artist, and musician living and working in Seattle, Washington. In Fisher's words, his drawings "are a meditation in creative freedom, a way to explore the inner mind, and connect with others on a more intuitive and personal level." His describes his prints as familiar and tactile through his approach to texture, color, and the printmaking process.
Utopic Sound was commissioned as a part of Bellwether 2021 and created especially for Bellevue Arts Museum's façade.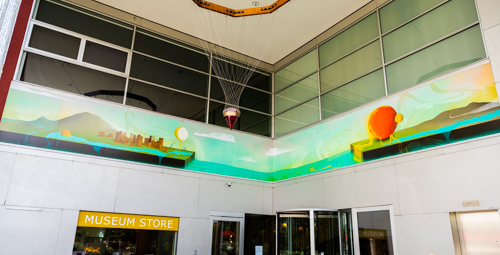 Dylan Neuwirth
MCMLXXVII/MMXI,  2011
Carbon steel, chrome plating, galvanized carbon steel, stainless steel, hardware
6th Street
On the exterior of Bellevue Arts Museum is a singular object. While it has the appearance of a stripped bicycle frame, a piece of urban detritus familiar the world over, closer inspection reveals it to be simply sculpture, strangely familiar, hiding in plain sight.
Dylan Neuwirth is very open about his history with addiction. The recovery of an addict is often described through a set of clichés: starting again from scratch, getting clean.  For Neuwirth, sober since 2011, a more pertinent image of sobriety could be this object; stripped, empty, abject, prostrate before a higher power, yet ready with new possibilities for the future.
Dylan Neuwirth (b. 1977, Athens, Georgia) is an artist working with light, space, and interactive technologies. His work is in private and institutional collections, and has appeared widely in a variety of media. From 2007–2016, he executed large-scale architectural glass commissions world-wide as a Project Manager with Chihuly Studio. He is currently the Creative Director at Western Neon, and lives in Seattle, Washington.
George Rodriguez
Swipe, 2013
Ceramic and glaze
55 x 34 x 34 inches
Central Bar + Restaurant Alley
Texas transplant George Rodriguez received a BFA in ceramics from the University of Texas El Paso. A 2009 MFA graduate from the University of Washington, he traveled the world through most of 2010 as a recipient of a Bonderman Travel Fellowship. He fulfilled a two-year residency at Pottery Northwest in Seattle and has shown extensively throughout the Pacific Northwest. He is represented by Foster/White Gallery. George currently resides and works in Seattle as part of Ceramistas Seattle. 
Bio from artisttrust.org.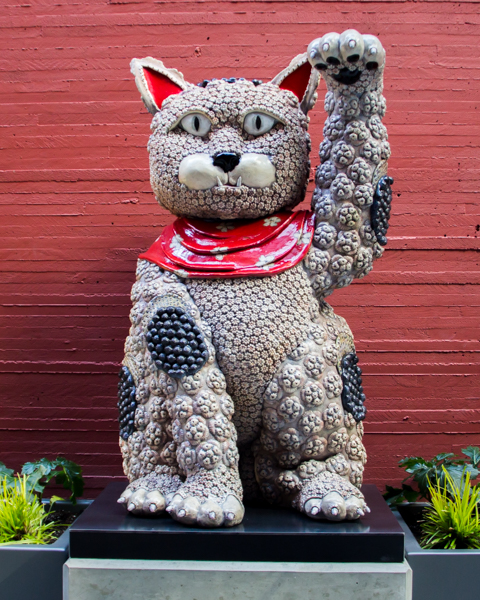 Holly Ballard Martz
Danger of Nostalgia in Wallpaper Form (in utero), 2020
Altered wire coat hangers
From a distance, this installation appears to be an innocuously patterned wall, perhaps modeled on the pre-Raphaelite designs of Victorian radical William Morris. Closer inspection of the design reveals the installation to be made of dozens of cheap wire coat hangers, shaped and soldered into the repeated diagrammatic form of the human female reproductive system.
By installing her piece in the style of ornate wallpaper, Martz manipulates an instrument of the days of 'backstreet' abortions—the horror of which we believe to have been banished from any civilized society—into something fit to adorn even the most elegant drawing room. The installation is a societal taboo hidden in plain sight.
Martz bends and forms each piece of wire by hand—an exercise in endurance for her fingers and a metaphor for the slow and painful trudge towards full reproductive rights for women in America. Martz's craft presents a vivid reminder of a visceral physical reality that underpins the perceived gentility of the absence of women's rights, tied to a particularly American prudish negation of the realities of the human body. Martz urges us to question what else lurks beneath the surface of our civilization, be it in history, in society, or in ourselves.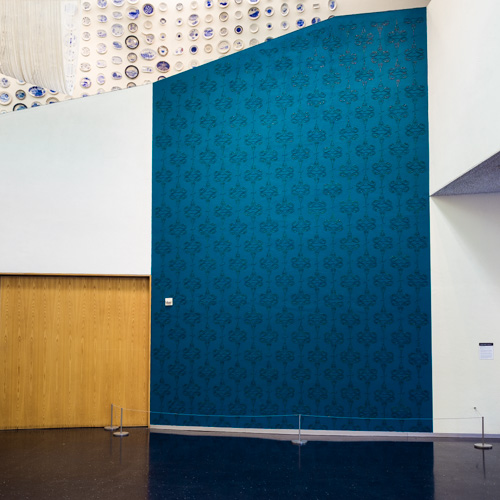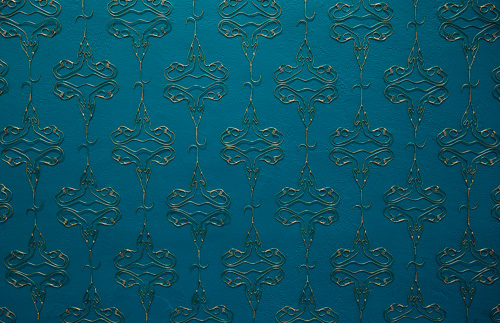 Humaira Abid
Black Lives Matter,  2021
Carved pinewood
Collection of Sara & Michelle Vance Waddell
Enough, 2021
Carved pinewood
Courtesy of the artist and Greg Kucera Gallery
#MeToo, 2021
Carved pinewood
Courtesy of the artist and Greg Kucera Gallery
No Means No, 2021
Carved pinewood
Courtesy of the artist and Greg Kucera Gallery
Seattle-based, Pakistan-born artist Humaira Abid is a miniature painter and wood sculptor. For this installation, Abid created four new works in her primary medium of wood. This polyptych marks Abid's return to BAM after her first solo exhibition, Searching For Home, in 2017.
Abid's art boldly confronts a cluster of harmful cultural norms such as patriarchy, classism, and racism. Her previous work tackled the refugee crises across the Pacific Northwest, Pakistan, Somalia, Syria, and Afghanistan, and its disproportionate effects on people of color and women and girls worldwide.
For these pieces, Abid drew direct inspiration from contemporary homemade protest signs, such as those used in the 2017 Womxn's March on Seattle and 2020 Black Lives Matter movements.  Every sign is hand carved. Abid's aim is to encourage difficult but essential conversations that fuel real change. In her own words: "my main medium is wood and I have the ability to bring people closer through the beauty of medium, hyper-realistic details, and the element of surprise."
Abid's approach illusorily transforms wood into cardboard and paper, refusing normal material and visual boundaries, a trompe l'oeil—fool the eye—effect. The signs look as though they curl and flex in an unforgiving wind or after being carried for miles of marching, yet are made of sturdy pinewood, the grain directly evocative of the natural proliferation of conifers across Washington State. In reality, protest signs fade, decay, and become detritus after the march ends. But Abid's voice is everlasting, embedded in wood.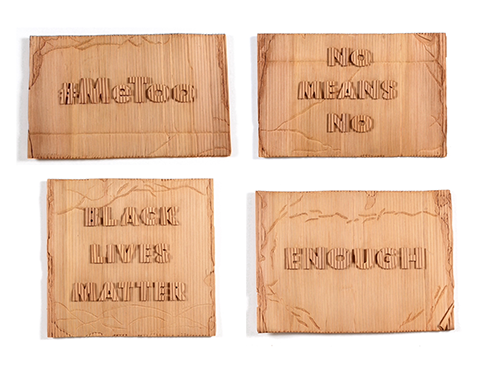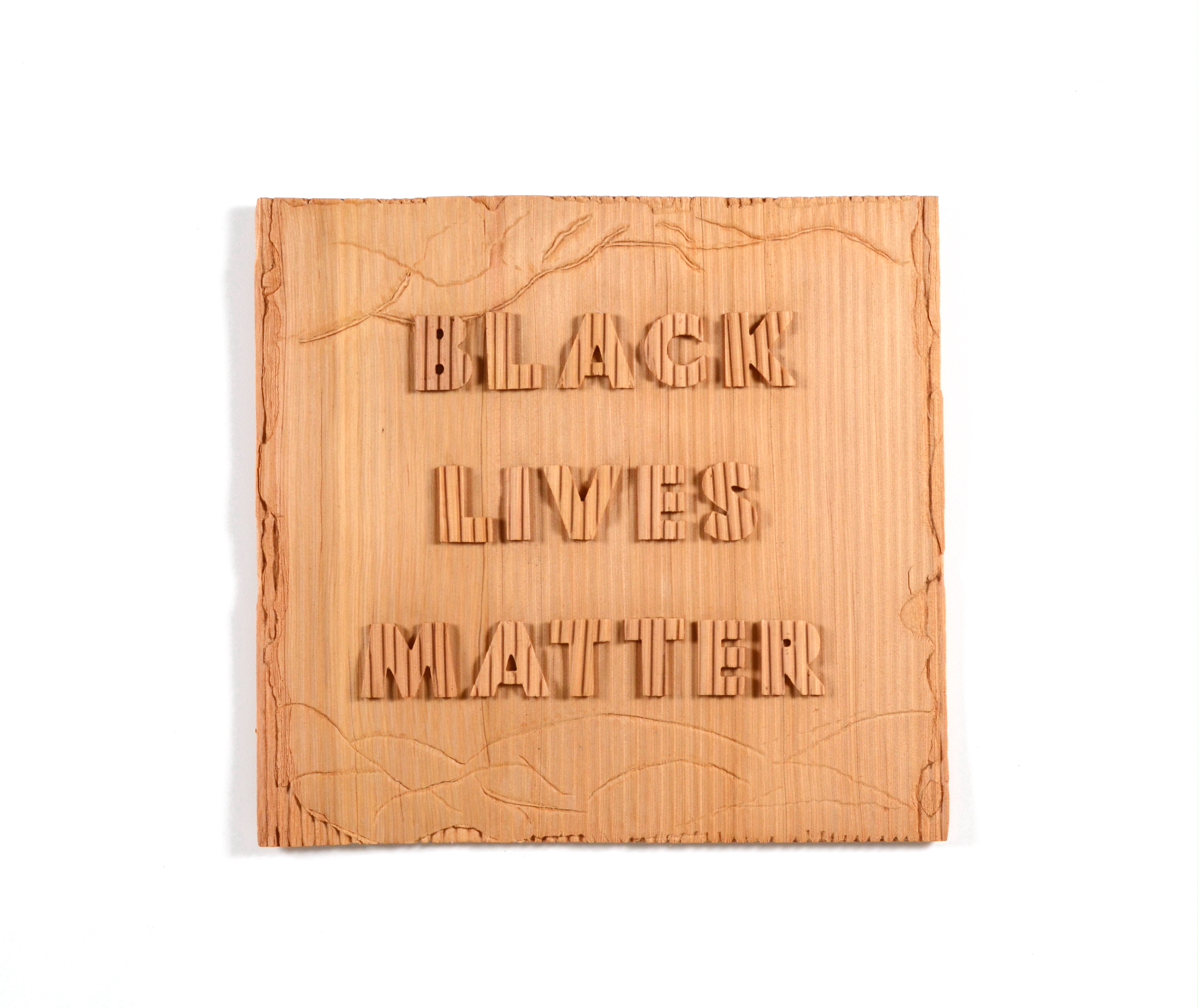 Julie Green
The Last Supper, 2000 - 2022
Cobalt blue mineral paint on second-hand ceramic plates
Julie Green (1961–2021) was a professor of art at Oregon State University and lived in the Willamette Valley with husband and artist Clay Lohmann and their small cat, Mini. Half of each year, usually winter months, she spent painting The Last Supper. A recipient of the Joan Mitchell Foundation Grant for Painters and Sculptors and the Hallie Ford Foundation Fellowship, Green was included in A World of Art published by Prentice Hall. Green had forty-two solo exhibitions in the U.S. and abroad at venues including The Armory Show in NYC, Upfor in Portland, The Block Museum at Northwestern University, Hunter Museum of American Art, and University of Liverpool Art Museum. Collections included State Library of Oregon, Spencer Museum of Art, Fidelity Investments, Athena Art Finance, and hundreds of private collections worldwide. Green's work has been featured in publications including The New York Times, the Los Angeles Times, a Whole Foods mini-documentary, National Public Radio, and Ceramics Monthly. Green credited steadfast support from Clay Lohmann, Theo Downes-Le Guin at Upfor, and Oregon State University for making everything possible. 
Professor Julie Green passed away at their home in Corvalis, Oregon on October 12, 2021 at the age of 60. Professor Green completed their twenty-two year The Last Supper project, totaling 1,000 plates, just over a month prior on September 4, 2021. Bellevue Arts Museum is honored to have worked with Professor Green and hosted their powerful installation.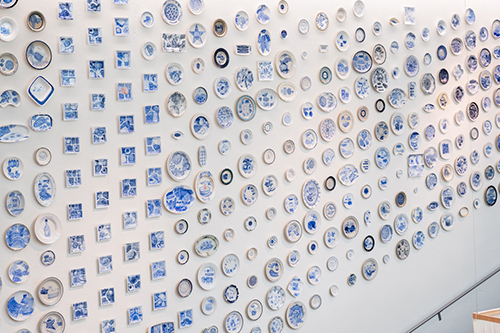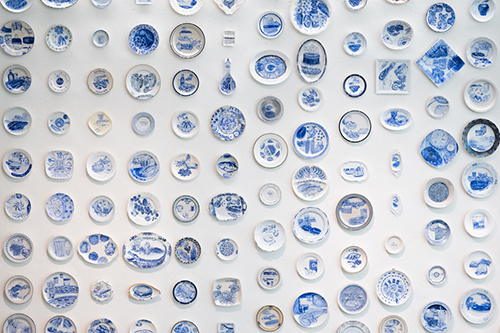 Labor Camp (Piotr Szyhalski)
Them, 2019
Medical grade fabric and acrylic paint
Courtesy of the artist
Them is one of a series of public expressions of rage and resistance, created by Polish-born artist and educator Piotr Szyhalski.
Made in the Bellevue Arts Museum Forum in March 2019 and exhibited through November 2022, Them has its origins in the Occupy Wall Street protests of 2011. Szyhalski was in New York during the protests, and the sight of Wall Street bankers high up on a balcony, drinking, laughing, and shouting abuse at the protesters below provoked a visceral anger in Szyhalski. This event inspired the text that would become Them. Deliberately nonpartisan, Them does not oppose left or right, but rather the weak and the strong, the powerful and the powerless, an ambiguous polemic for our troubled times.
Created on a custom-made printing press, using hand-cut letters from pink Styrofoam insulation, and printed using cheap acrylic paint, the printing of Them is an exercise in lo-fi creative street protest. Since 2011, Labor Camp's press and lettering have been used to create banners in Minneapolis protesting climate change and police shootings, as well as for public art projects that have garnered the project national press coverage. Made and displayed in the Northwest for the first time, Them was always designed as a means to an end, not an end in itself. Hence, once the project was completed, the banner was carried around the outside of the Museum building. The performative aspect of Them is paramount to its meaning, and that public event is presented on the adjacent screen.
 Piotr Szyhalski (b.1967) has in the past decade established Labor Camp—an ongoing art project that includes interactive components (digital and physical), original music, performances, videos, printed ephemera, texts, a blog, and an archive of online resources. His work has been exhibited worldwide at such venues as the International Center of Photography, the New York Expo Film Festival, Siggraph, ISEA Paris, the Museum of Contemporary Photography in Chicago, the San Jose Museum of Art, and Experimenta Design in Lisbon, Portugal. His works are included in the collections of the Walker Art Center, the Museum of Fine Arts, Houston, and others.