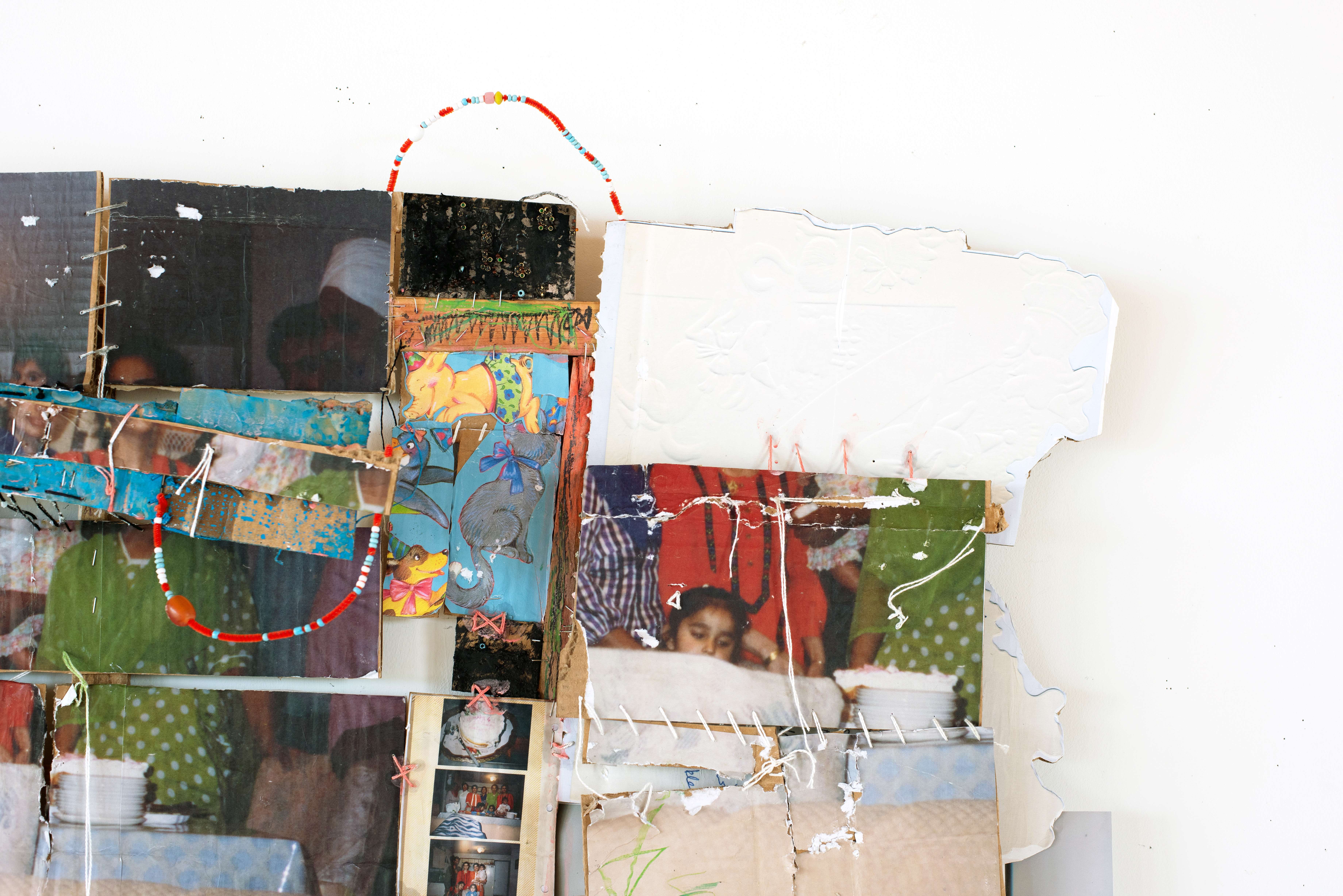 September 23, 2023 - December 31, 2023
Satpreet Kahlon
the inscrutable shape of longing
Satpreet Kahlon: the inscrutable shape of longing
Satpreet Kahlon was the winner of the 2021 BAM Biennial: Architecture & Urban Design Award of Excellence. This award comes with the opportunity to present a solo exhibition at BAM.
In her work, Satpreet Kahlon explores the messiness, contradictions, and nuances of inhabiting a body shaped by one's lived experience as well as one's cultural and ancestral history. Kahlon was born in Bhagowal near the Pakistani border and raised in the United States. As a child of the Panjabi diaspora, Kahlon's familial history is deeply intertwined with the precarious aftermath of colonization and geographic displacement. As writer and academic Saidiya Hartman writes, "the loss of stories sharpens the hunger for them." To explore these personal histories and how they have come to bear, Kahlon has built an immersive installation that delves into what has been lost while cultivating the possibility for healing and solace.
The installation is a multisensory constellation of sculpture, video, image, poetry, sound, and salvaged materials. The central body of the installation is a web-like net woven with found materials, from scraps of wood and cardboard to childhood photographs and objects to Panjabi textiles, jewelry, and beads. Each of these elements carries its own history and range of associations that reflects Kahlon's bodily experience and history. The suite of videos projected over this hanging web includes archival footage of rural Panjabi folk rituals that display celebratory and playful expressions of gender fluidity. These images are contrasted with others across the exhibition that are mired in silence, repression, and harm. Together, these fragments begin to form a larger whole—what could be understood as a nervous system excavated from the artist's body and the many memories, impulses, triggers, desires, and experiences that body holds.
From this splintered array of images, sounds, and objects, Kahlon conjures a contemplative atmosphere for viewers to consider their own ancestral history, memories, and voids. How does trauma, displacement, and abuse live alongside kinship, adornment, and joy? How do these forces shape a person's body and health? What should be shared and what needs to be protected? This exhibition is an invitation to sit with personal and collective loss, to move beyond the façade and into the body, to face the void, and uncover new sources of nourishment.  
Featured Art: Satpreet Kahlon, (detail) from all of us, 2023. Image: Courtesy of the artist
About the Artist
Satpreet Kahlon is a Panjabi-born artist, organizer, and educator based on Coast Salish territories. Kahlon earned her MFA in Sculpture at the Rhode Island School of Design in 2019. Her practice has been supported by The Rauschenberg Foundation, Foundation for Contemporary Arts, Critical Minded, Vermont Studio Center, the Portland Institute of Contemporary Art, the RISD Museum, 4Culture, Henry Art Gallery, the Magnum Foundation, Brown University, the Chihuly Studio, the Studio of Dale Chihuly, Wing Luke Museum, the Neddy Award, and others. She was awarded the Biennial Curatorial Excellence Award by the Bellevue Arts Museum in 2022.